The Orange and the Green: Ireland in 10 Days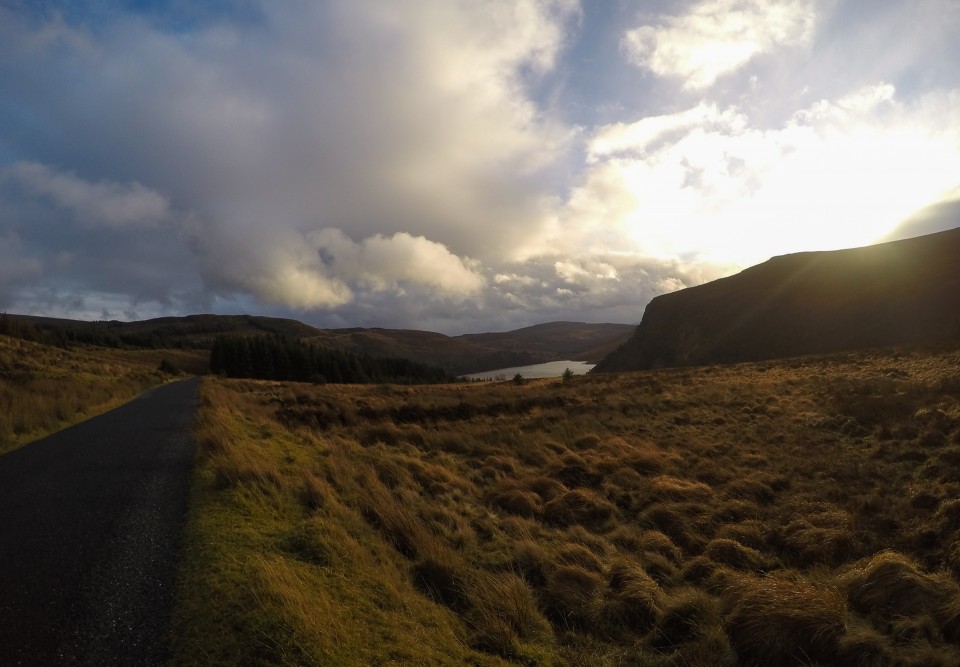 Offered a chance to for a quick trip around Ireland with a friend, I of course said yes.
There was one thing I knew for sure. I would need to buy a jacket. And a hat. I own neither.
Our trip would take us from Dublin, southwest to Cork, up through Galway, over to Belfast, ending a week later back in Dublin. It's a lot faster of a pace than I travel now, but we both had time constraints on either end. We'd see what we could see in the time allotted, and almost certainly imbibe a few pints along the way.
An hour south of Dublin are the rolling hills of Glendalough and the Wicklow Mountains. They have a stark beauty (image at the top), and I don't think that's just because of the season. The roads here were fantastically twisty.
Cork is a lovely city, with a river running through it: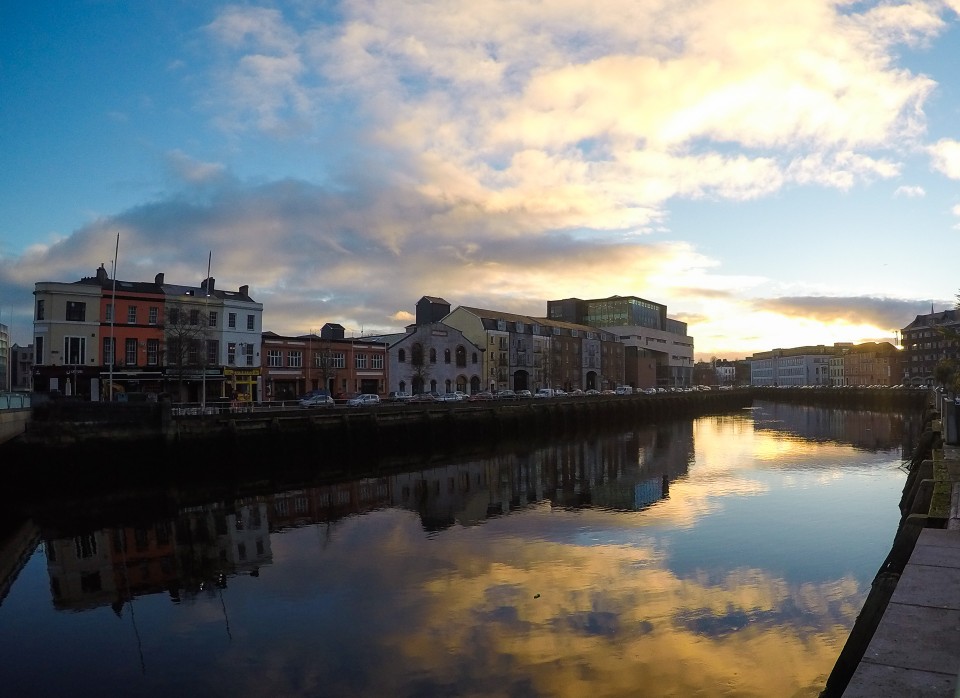 Decked out in full Christmas garb, it was hard not to get into the feeling of the season: walking streets full of shoppers, lights and street musicians.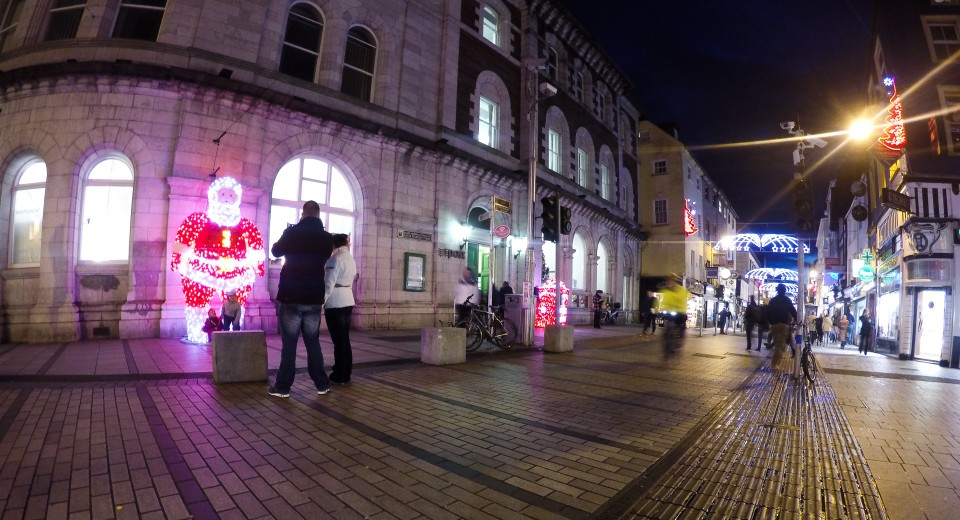 Of course the big attraction near Cork is Blarney Castle, with the eponymous Stone. The castle itself is, as one person put it, "Legit."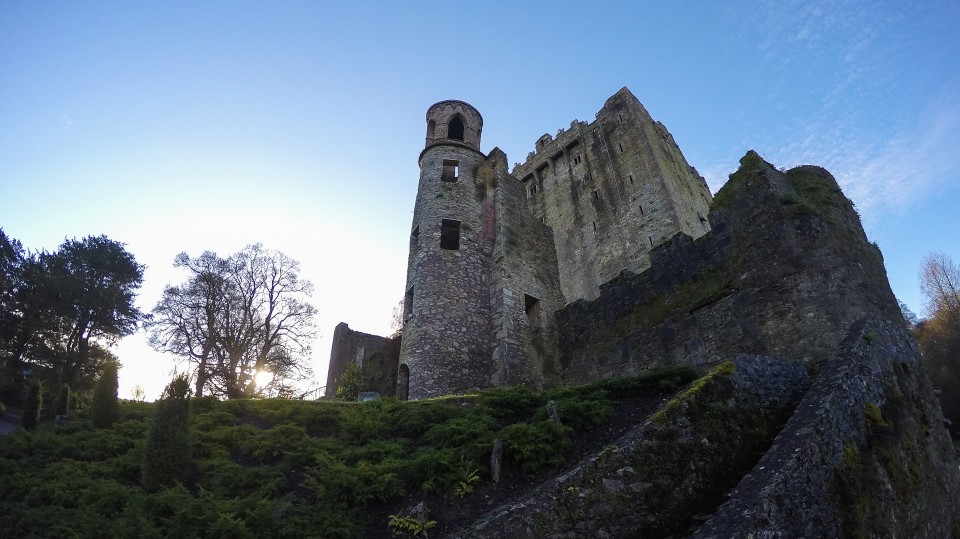 You climb twisting narrow stairs, through many ancient rooms, to the top. Then, dangled over the edge, you kiss the (let's be honest, ridiculously unsanitary) stone.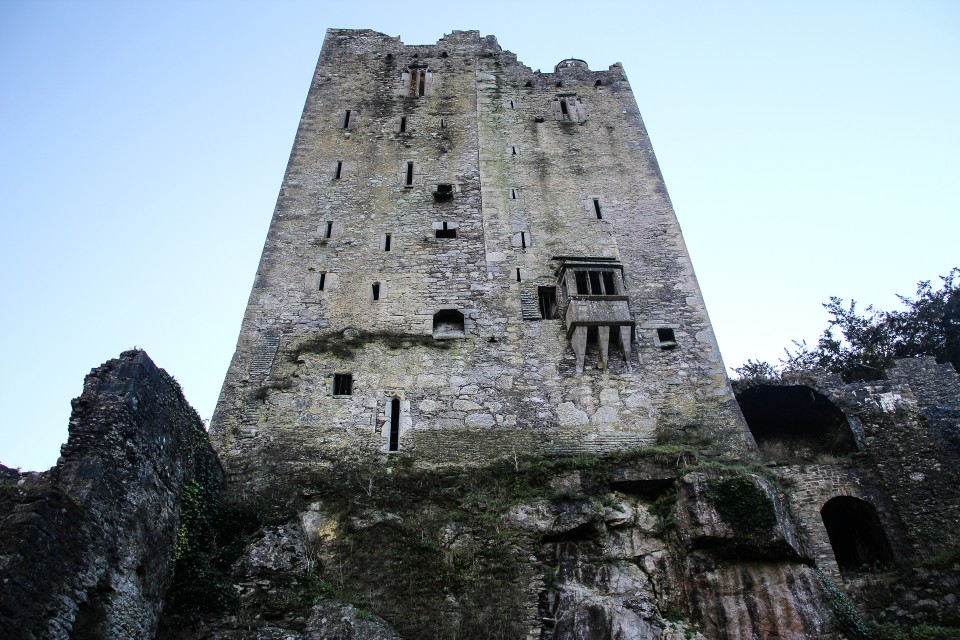 It seemed more like a rite of passage than a tourist trap, but I see no reason it couldn't be both. The view from the top of the castle is incredible, though, and well worth the hike up.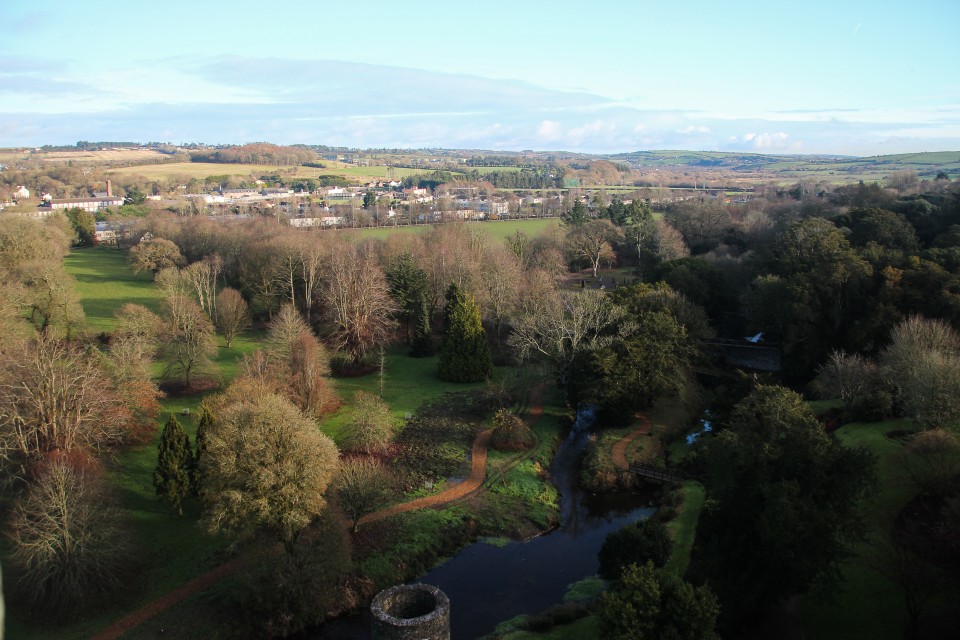 The next day we were off to the Cliffs of Moher, sort of Ireland's western answer to the Cliffs of Dover. They had a wee bit of mist and fog. This was the clearest it got: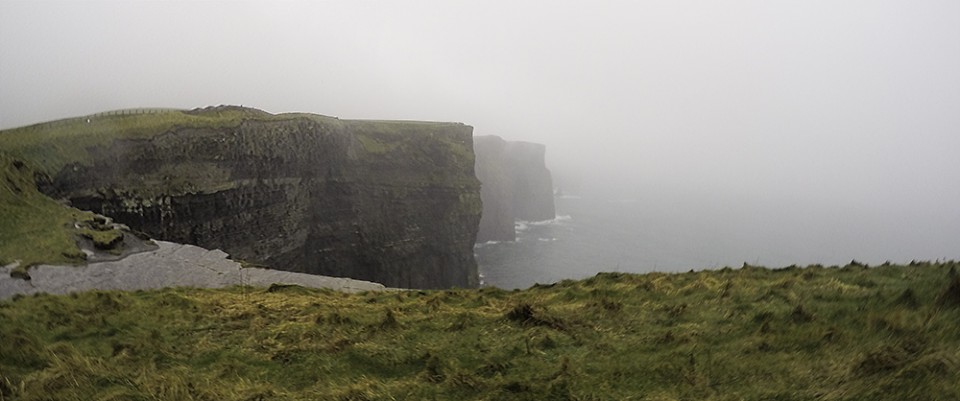 While disappointing, I did get some cool pictures, especially this one: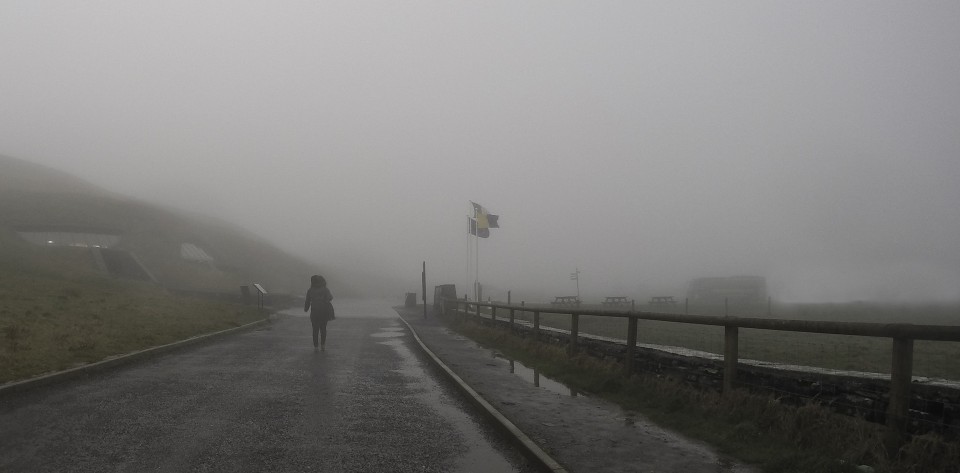 With so few hours of daylight, fitting in everything was a challenge. Galway was one of the only casualties though. We got in late, and had to leave early. So we didn't get to see much of what looked like another great small town. We did get a look at Galway Bay, which honestly was 90% of what I wanted to see (you know, because of the song).
Then it was up to Belfast. Game of Thrones tour? Check.
HBO was shooting at Castle Black, but from the road we could see the elevator and The Wall (not snowy, but still huge). Up next was the Cushendun Caves, where Melisandre gave birth to the shadow assassin.
Then it was up into the hills where Ned Stark killed the deserter in the very first episode:

Next was Ballintoy Harbour, the real-life stand-in for Pike on the Iron Islands.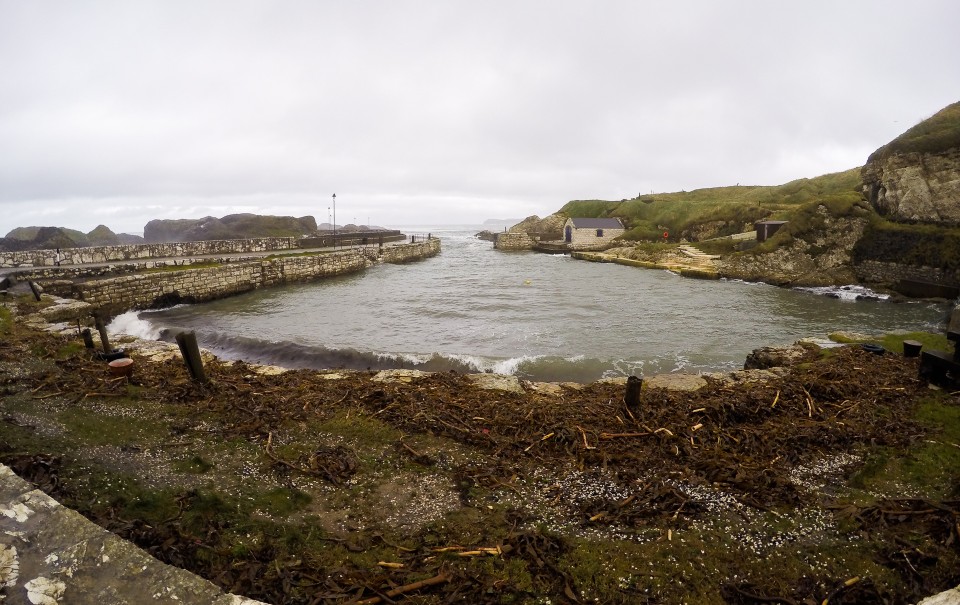 Not just a GoT tour, we also stopped at the Carrick-a-Rede Rope Bridge and Giant's Causeway. The Rope Bridge is at the end of a long walk along the cliffs.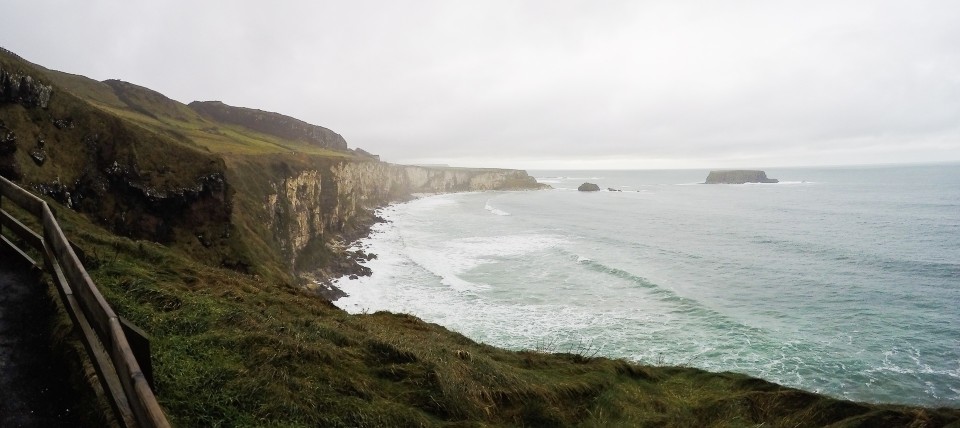 Wobbly and windy, it's surprisingly nerve-wracking, not least because you're high above crashing waves and unfriendly rocks.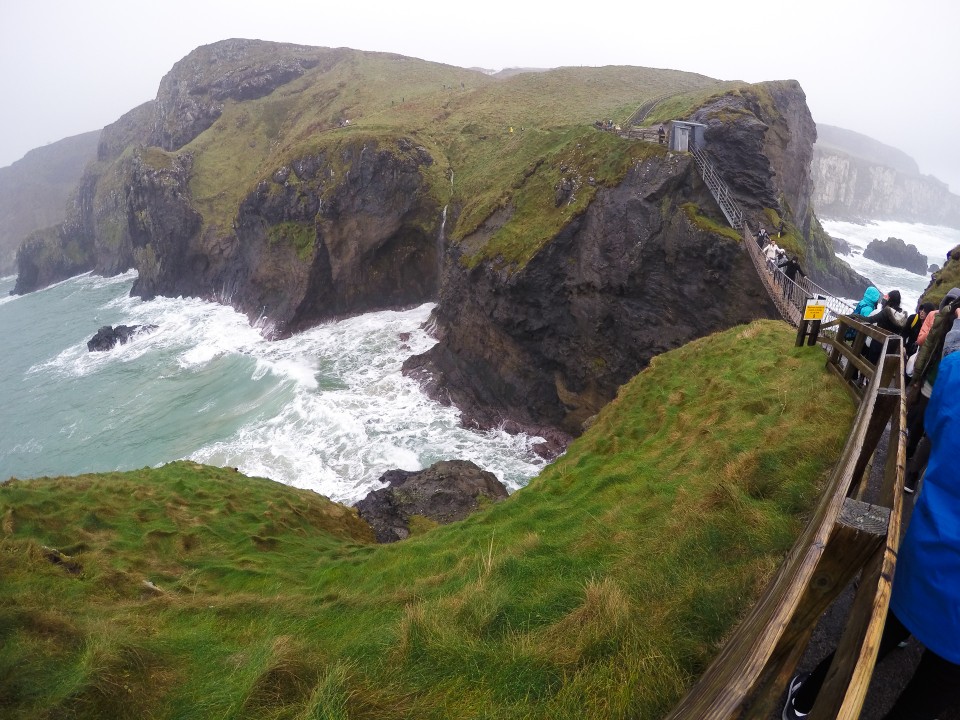 Giant's Causeway is every bit as weird, and perhaps more eerie, layered in mist and damp cold.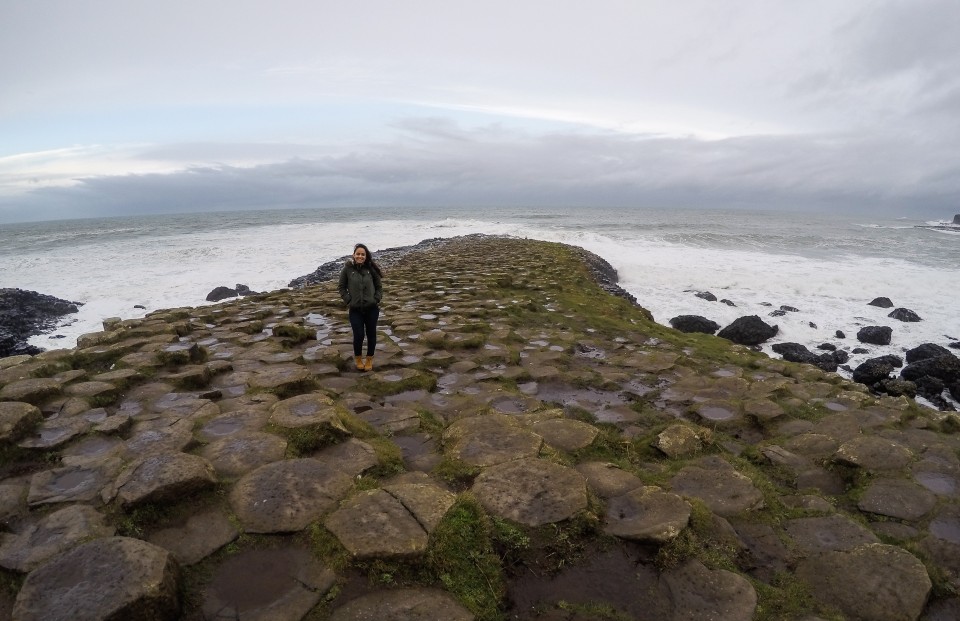 The sun was setting behind the cliffs as we made our way back to the bus. Not a bad sight…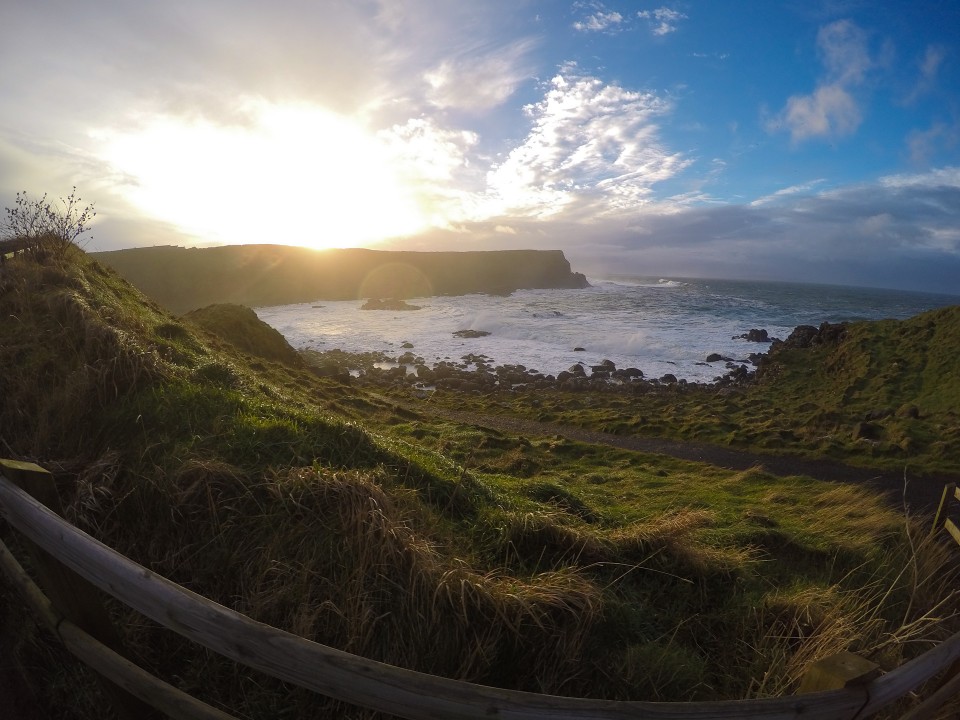 There was time for a quick pint before heading to our last two stops. Amusingly, I'd drunk at this pub when I was in Ireland in July.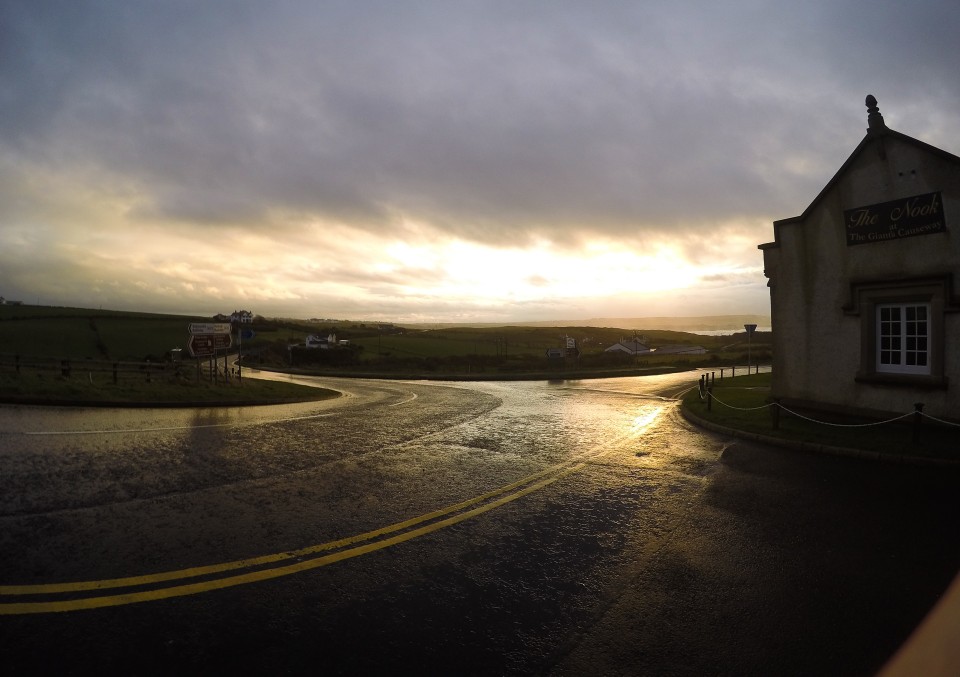 The last stop was The Kingsroad, also known as The Dark Hedges. A place with a non-fiction name cooler than its fiction name.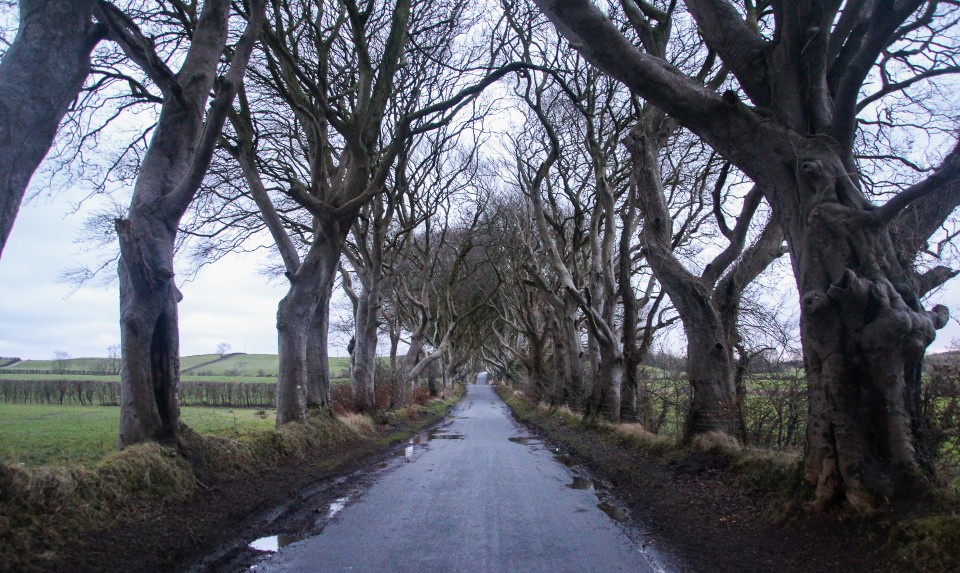 Though a long day, that night I was lucky enough to meet up with (again) The Ladies Cully, Hannah and Emily. Well met in Noosa, on the far side of the world, and again on my last trip through NI, these two are funny, and wonderful, and some of my favorite people I've met while travelling. Hannah is moving to New Zealand in April, which I'm exceptionally jealous about. Might have to go visit…
Then it was back down to Dublin, with a Singaporian passenger, Shu, that we met in the Belfast hostel. The three of us did the Guinness brewery tour, and imbibed quite a bit in Temple Bar (including some Jameson, of course).
After just 10 days, the trip was over. Somehow I was able to keep it together at the airport, not something I'm always able to say. While we got on each other's nerves occasionally (spend a week in a car with anyone and not say that), Thaynara was a charming and hilarious travel buddy. We live very far apart, so we'll just have to meet up somewhere else, somewhen, for more adventure.
Driving on the left
Though I'd driven on the "wrong" side of the road before, both in Aus and Scotland, this was the first time I also had to shift.
I'll say this. I like driving from the right side of the car. It has a certain "Millennium Falcon" novelty to it (to my brain at least). Driving on the other side of the road, too, is pretty arbitrary and your brain adjusts.
However, shifting with your left hand is an abomination. Shifting with your left hand, when the gears aren't reversed is even worse (1st is up and to the left, as "normal").
Our car was a bright red Ford Ka, which isn't sold in the States and far smaller than the Fiesta. It is adorable, and surprisingly quick (probably because it weighs 140 pounds… sorry, 10 stone). It got over 40 mpg on the highway to boot. Speaking of boots, its boot was big enough for two suitcases. It's tied with the best rental car I've ever had. The other, the Nissan Micra I rented in France, sounded a little cooler with its 3 cylinder engine, but didn't handle as well.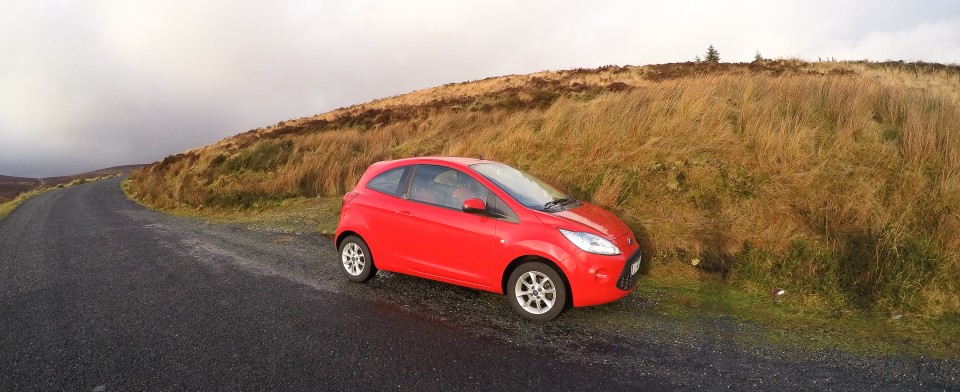 GoPro
Expecting some outdoorsy activities when I return to Australia in a few weeks, I bought a GoPro Hero 4 Black (get the Silver instead). I used it to take the majority of the photos, and was incredibly impressed. Rarely did I use my phone to check what the image looked like before I took it. Instead, I just pressed the shutter a bunch, and checked the results that night. I, *gasp* let the camera automatically select shutter speeds and exposures.
I can't say I had that many more misses than if I'd done it all myself (hmm, that might say something). And in fact, I got some shots I know I wouldn't have gotten on my own. So for a travel camera, it's just about perfect, and is one of the few products I've ever used that completely lives up to its hype.
Hard to believe? All but two of the pictures you see in this post are from the GoPro, and most have little, if any, Photoshop work done to them.
Dublin Airport is ridiculous
Getting out of Dublin was the most asinine process of any airport I've ever been in, and I've been to a lot.
This is not an exaggeration of the process:
Line #1: Document Check #1 (Are these bags yours? Did you pack them?), move to…
Line #2: Check in, Document Check #2, go upstairs for…
Line #3: Pre-security, Document Check #3
Line #4: Security #1 (shoes on), move to Customs
Line #5: Document Check #4
Line #6: Security #2 (shoes off, Document check #5 – less than ten steps and line-of-sight from #4)
Line #7: Electronic Custom Check (Passport scan, photo taken)
Line #8: Manual Customs Check (Photo verified by human)
Line #9: Boarding (Document check #6)
Nine lines, two security checks (x-rayed bags and everything), six different checks of my passport and ticket. What the serious fuck. America the free, home of the startlingly paranoid. Now yes, technically I was clearing Customs and Immigration in Dublin (not at Dulles), but that does not account for this many steps. Sigh.
If you have the chance…
I highly recommend Ireland and Northern Ireland for travelers of any experience level. The people are brilliantly friendly and welcoming, the country is gorgeous, and it's not as expensive as London and southern England. Good times.
Up next
Trans-Pacific, south by southwest…
Ireland and Northern Ireland:
Do I have an accent? Yep, gladly. Their's is so lovely
Can I read the signs? The English parts anyway…