1770, Lady Musgrave, and the Joys of Unintended Consequences

I hate being bored. There is no greater fear in my life than being bored. I wasted years of my life on work and the outskirts of absolute boredom, and I refuse to waste any more time.
So with a passion do I hate the town of 1770. And I was stuck there, for nearly a week.
But it turned out that being forced to miss my bus was one of the best things to happen on this trip so far.
I had gone to the town of 1770, adjacent to the equally minuscule Agnes Water, with the specific purpose of seeing Lady Musgrave Island. It's a coral key at the southern end of the Great Barrier Reef. Despite spending a month in spending a month in Western Australia, the Reef was the main purpose of this trip, and I wanted to see as much of it as I could.
The island itself looks exactly the type of "deserted island in the South Pacific" you'd see in any B-movie or dream sequence (yours or in a film). White beaches sloping down to a massive lagoon with shades of teal, topaz, and azure impossible to capture on camera.
The ecosystem is fascinating. Birds live, die, and poop in trees whose sole nourishment comes from said birds (and their poop).

Turtles lay eggs on the shore, but otherwise the only animals are the occasional human tourists and campers.
A glass bottomed boat shuttles you from pontoon to shore, and takes a meandering route back to show off the undersea coral formations. Occasionally, one of the turtles pops up to say "hi".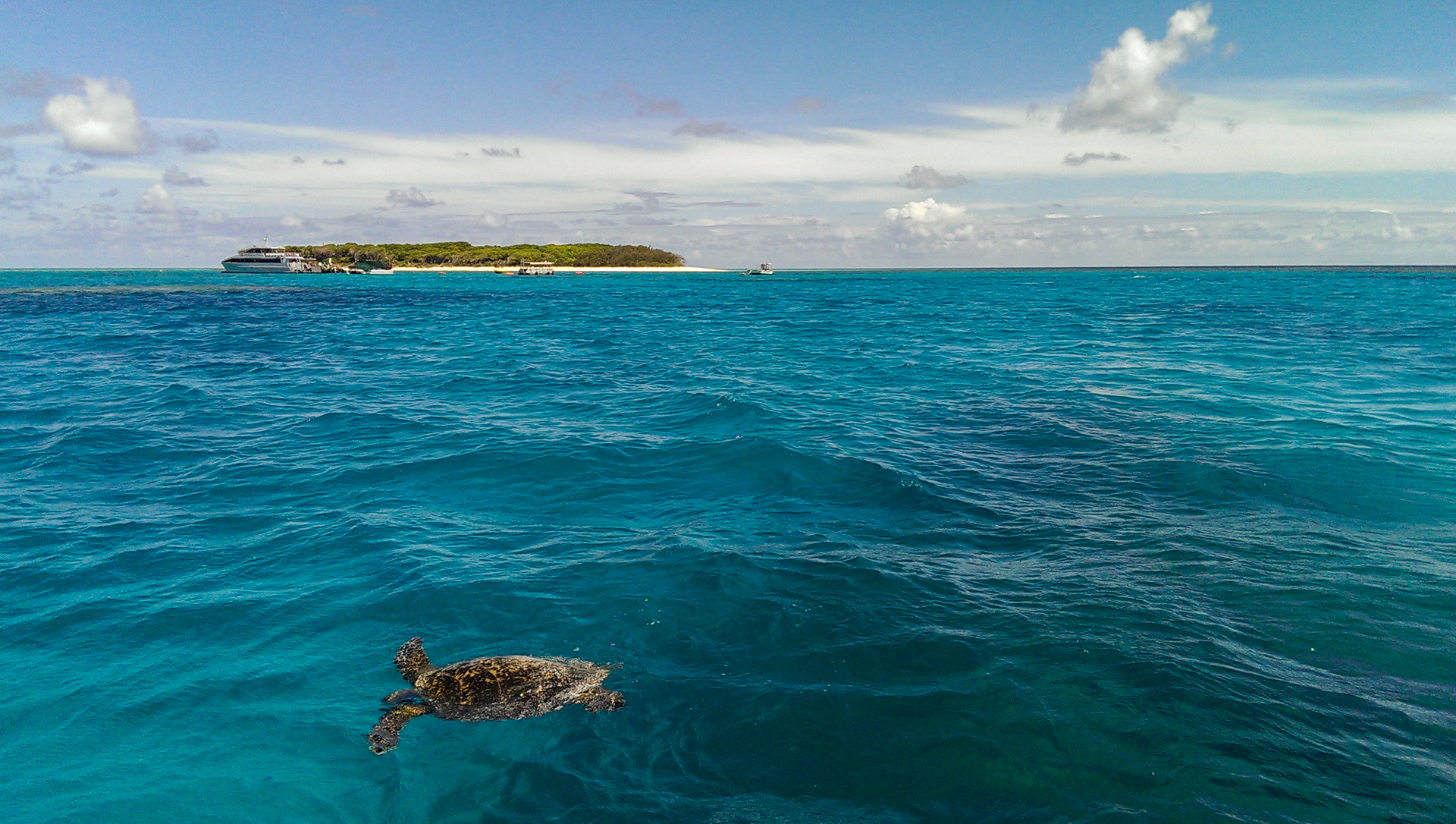 I'd signed up to scuba, an intro dive and my first taste of the Reef. A group of 4 became 2 as half hated being under water. Though I'd done an intro course in a pool in high school (or earlier?), this was my first time scuba in real water. It was also the first time with my prescription mask, so I could see.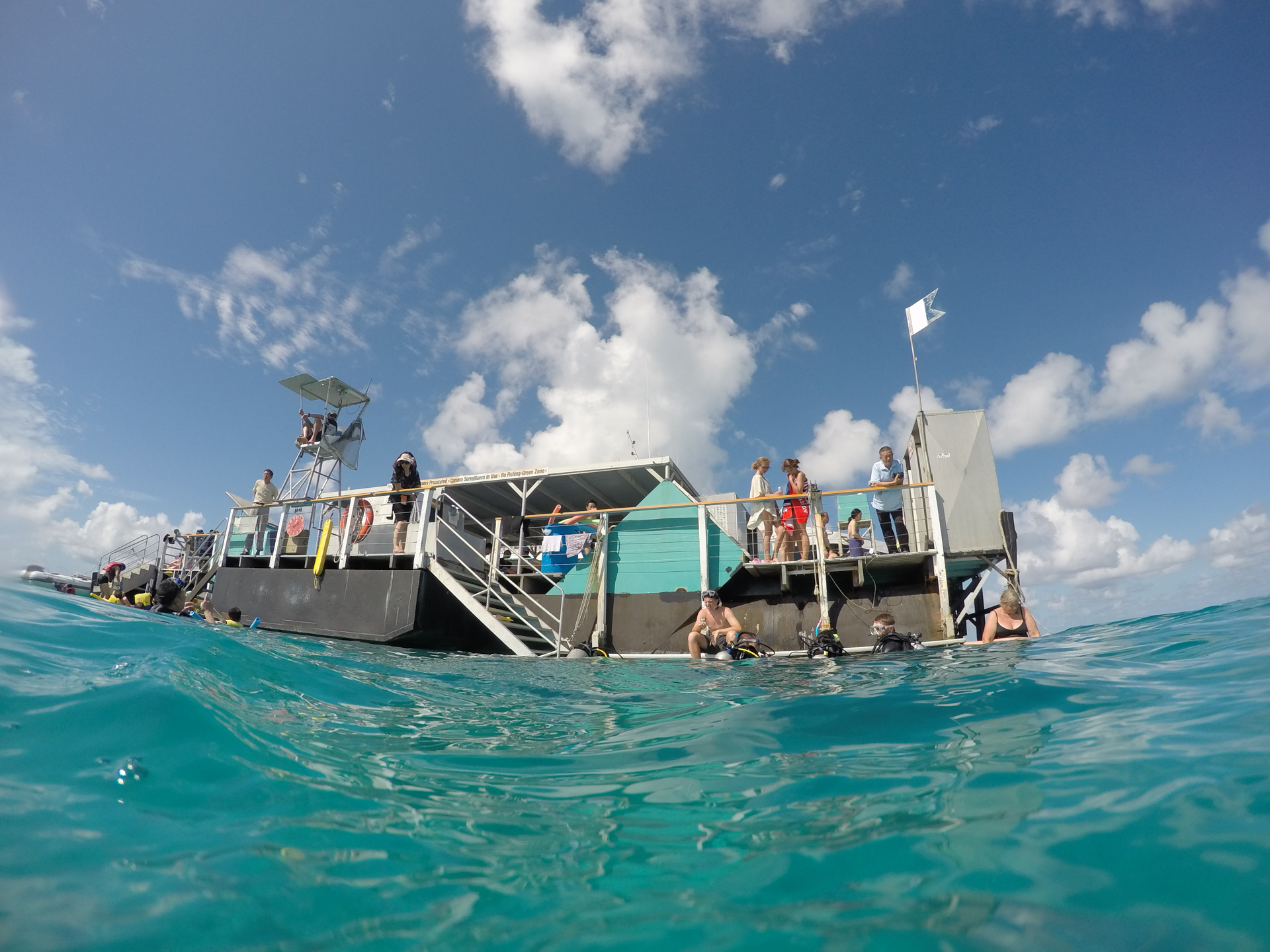 That first experience, putting my face into the ocean, and being able to breathe… one of the greatest moments in my life. Incredible. Indescribably incredible. It was a lifetime of daydreams and wishes come to reality. A new universe opened up before me. A hidden world I'd always found fascinating, but never been able to touch.
Now, I was in it. My lifelong dream of swimming in an aquarium, come to life in a bigger, better way than I'd ever imagined. I'd always been fascinated by the sea, now I was alive in it.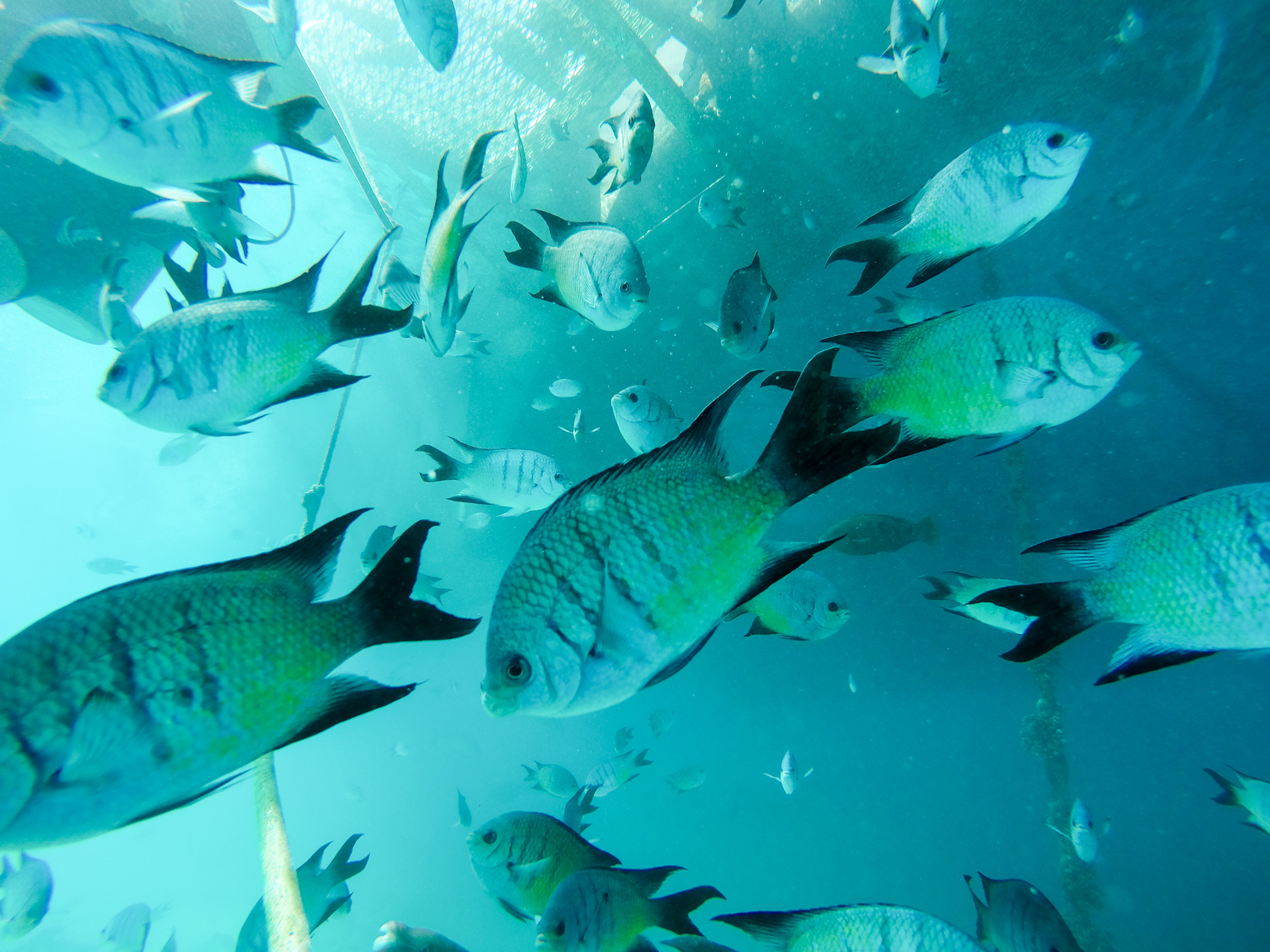 Being an intro dive, I had to stay with the dive masters, but like a puppy straining at his leash, I kept wanting to down, further, to explore.
It was incredible. I felt so at ease and comfortable. For the first time in my life, I actually felt graceful (though I'm sure I wasn't). Scuba diving is the gift of flight made real in a way no airplane can.
I'll let the pictures speak for themselves.
I was sure I wanted to get my dive license on this trip. Now I couldn't get to a dive shop fast enough.
I was supposed to leave 1770 on Sunday night, bus booked and everything. The woman the hostel contracts with to shuttle people to the bus stop (30 minutes away)… just didn't show up. Completely flaked. Stranded me and 4 Brits. The next bus I could get was 3 days later. I was pissed.
Before you roll your eyes at the idea of being trapped in a beach town in Australia, let me lay out the scene. You can't really swim in the water in 1770. The "town" is a single strip mall, with three mediocre eateries, all of which close at 7:30. Even on weekends. The hostel has no air conditioning, despite it being regularly 90-100 degrees with all the humidity the air can handle without raining. A single decrepit ceiling fan cooled no one. The rooms were covered in ants. The beds were covered in ants. The walls outside the rooms were covered in bird shit. There were two power outlets for 10 people, and these were in the bathroom. The TV room, the only place with WiFi and power outlets, was so sweltering during the day, they could have labeled it a sauna and no one would have questioned it.
There was nothing to do. I couldn't work, couldn't relax, couldn't even eat at a decent restaurant. The heat, trapped in the rooms of the hostel, was nearly unbearable. And this was the good hostel in town.
So no, I won't apologize for loathing it and complaining. I was wasting money and life by the second, and I'd rather not lose either. This was a crappy place to be for a few days, and intolerable for a week.
Even sitting on the beach, if you're into that kind of thing, gets old after a while.
Then I got sick. Body aches so bad I could barely stand. Loss of appetite and a stuffy head added to the malaise.
But here's the thing: I wouldn't have changed any of it, not a moment, for two reasons: I got to meet three amazing people, one English and two Scots (all who all shared my contempt of 1770).
The second, it made me pause and rethink my plan. I had booked into Airlie Beach for a week, with the idea I'd find a Whitsundays boat and go when I could. I had to cancel that hostel, and re-plot my next steps. Several of my friends from Fraser were in Cairns already. With my current plan, I'd get to Cairns long after they left. I wouldn't get to see them until this summer.
Nope, unacceptable. Their energy and love was everything I'd been missing in the previous weeks.
So I booked my ticket… a 20 hour bus ride up the coast from 1770 to Cairns.
A brilliant decision, actually, but more on that later…