New Zealand – Mostly Hobbits

Though I wouldn't have known it, arriving in Auckland was a mistake. The city, the hostel, none of it was what I needed or wanted, and I'll be honest, it made me question my whole plan.
I sat on top of Mt Eden, overlooking the city, for an entire day. Not moving, just churning through thoughts, my iPod plying me with music to exacerbate or attenuate my mood.
Then, things changed. The beginning of a catharsis.
Because in a hole in the ground, there lived a hobbit…
The level to which New Zealand has embraced the Lord of the Rings is probably not believable unless you experience it. The airports have "stone" dwarven statues, a "life" sized Gandalf on a giant hawk, the Wellington airport has a sign that says "The Middle of Middle-Earth." Don't believe me? OK: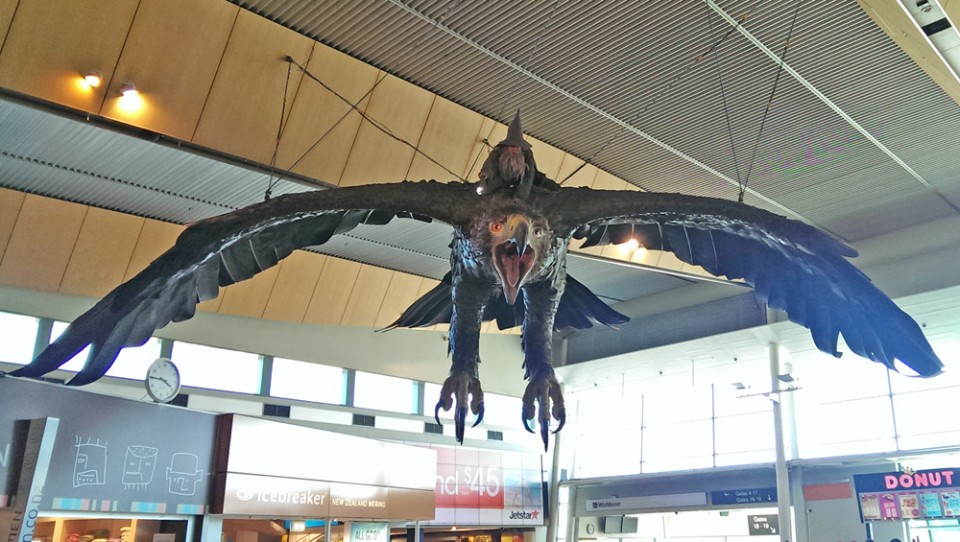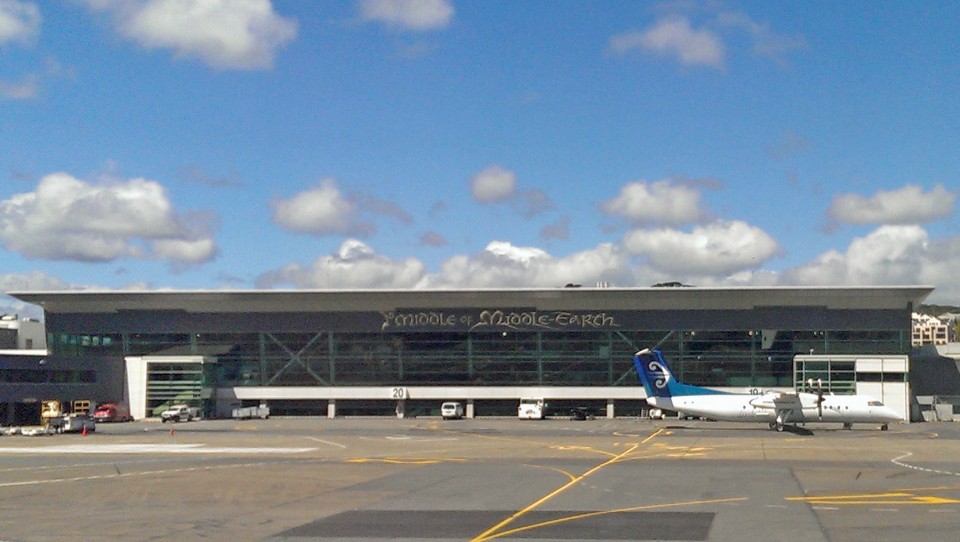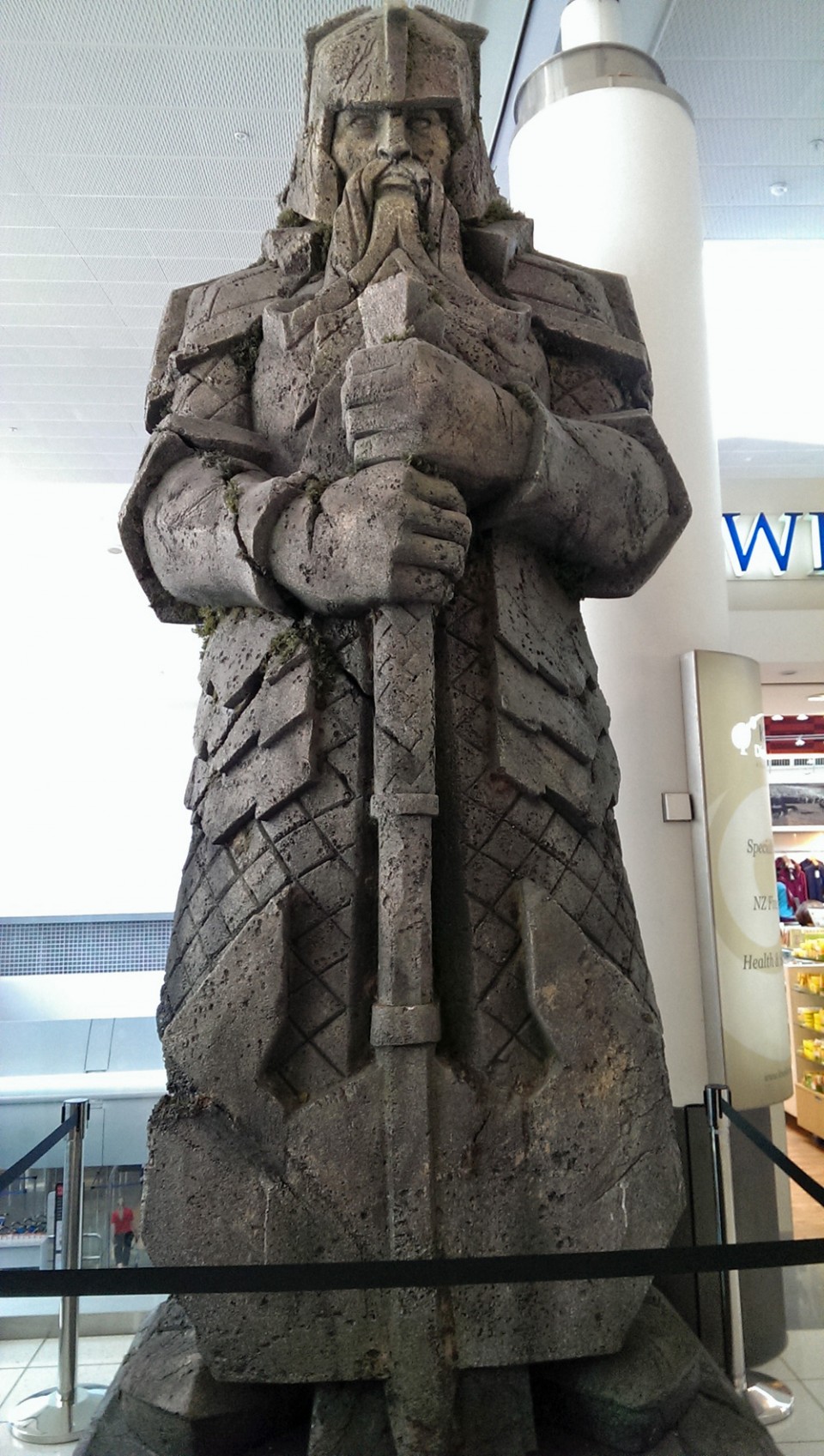 The Air New Zealand pre-flight safety briefing is all hobbits, elves, dwarves, and Peter Jackson. To say the kiwis are proud of their country being what millions of people worldwide think of when it comes to Tolkien's masterpiece is an understatement.
Auckland, however. Auckland. Hmm. I have nothing specifically bad to say about it. But nothing good comes to mind either. It's just… "fine." Bamber House, my first hostel, was also a mistake. Just outside the city, this quiet hostel seemed to have a lot of long-termers, and was rather clickish. So if you walked into a room, conversation would cease and they'd look at you. Not the type of thing I was ready for. My roommate spoke English well enough for us to converse, but wasn't exactly friendly. After my stay I met someone else who stayed there, who'd stayed at far more hostels than I, who felt exactly the same way I did. Good to know.
On my second to last day, I took a bus tour to Hobbiton. There and back again took over 12 hours, but it was in every way worth it. More than a leftover film set, it was an immaculate recreation of what you see in the movies.
I did a full photo tour for CNET: A photo tour of Hobbiton.
One of the only people my age on my tour was a beautiful Brit who'd been enjoying New Zealand much longer than I'd be able to. It was a lucky meet, as it made me optimistic that I'd find more cool people in my travels.
And indeed, within an hour of arriving at The Dwellington in Wellington, I was getting wasted with a collection short and long termers. Brilliant. They were warm and inviting, funny and friendly, and exactly what I was hoping to find on this trip. Since I'm now writing this two hostels later, I'm happy to report that so far, Bamber was the exception, not the rule.

Wellington itself is far more interesting than Auckland. It's got a lovely waterfront area with restaurants and places to sit, some beaches, and a relaxed vibe that Auckland seemed to lack. I've yet to meet anyone that "likes" Auckland. Lots of people love Wellington. Highly recommended.
Sadly, my short stay at The Dwellington couldn't be extended, as they were fully booked. I would have definitely stayed though the following weekend (though as you'll learn in a later post, I'm glad I didn't).
Instead of flying back to Auckland, I booked a scenic train. Twelve hours though the beautiful north island. Or at least, that was the plan. Three hours in, a train derailment further up the tracks meant we had to back into the previous station, and take buses the rest of the way. Nine hours later, we arrived in Auckland. I'll give the people on the bus credit, there was little to no complaining. Everyone took it in stride, despite was surely some crushed hearts at missing such a scenic journey.
I only spent a week and a half in New Zealand, not nearly enough time to see much at all. However, I saw enough to want to go back, possibly next year. Especially to see the south island, which is even more epic.
A few other fun items. Getting into New Zealand was one of the most elaborate border crossings I've ever experienced. Not the immigration part, but customs. Question after question, multiple checkpoints, even a baggage x-ray.
While they love their Middle Earth references, they love the Maori culture even more. I guess I hadn't fully realized that New Zealand is considered the largest of the Pacific Islands, more related to the likes of Hawaii, Fiji, and Tahiti, than Australia. Though there's plenty of the latter connection too. Apparently when asked about the migration of many people from NZ to Australia, a former Prime Minister said, "I think it is a good thing, as it raises the IQ of both countries."
Turns out you can't enter NZ without either a visa or a ticket out. Didn't know this (all the web said was no visa was required for says under 90 days), so I had to buy a return ticket at Sydney airport. Not a big deal, but the cheapest return flight did dictate my trip a bit. I could have changed things, stayed longer, etc, but I saw enough to tell me I needed to see more, and so in that I got what I needed.
Up next: Melbourne
New Zealand:
Can I read the signs: yes
Do I have a funny accent: yes