The Beauty and Wonder of Japan: Part 1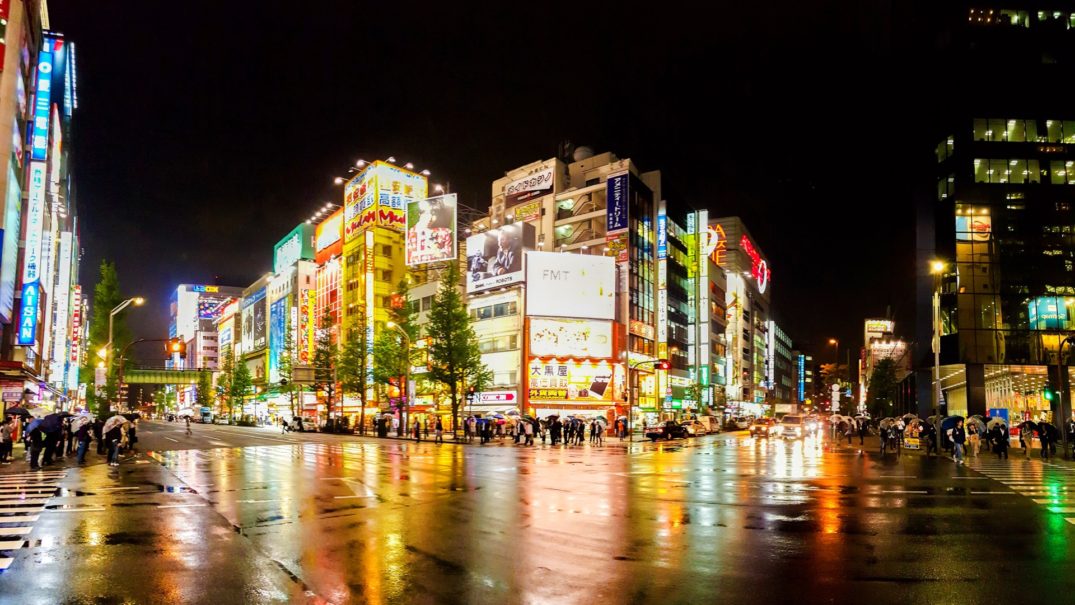 Magnificent.
It had been a rough few months. After getting sidelined by a broken leg, I spent nearly 3 months laid out at home. It was challenging.
Then, in late April, I got the all clear from the bone doc, and the next day I was on a flight to Japan.
I'd been to Japan before, a few days here and there for work. I've always been fascinated by the country and culture, and it had been on my "extended stay" wish list for as long as I'd had one.
I just needed an excuse. I found one in the birthday of one of my closest friends and travel buddies: Phil. He and his wife Maureen were going to Japan and were going to celebrate his birthday in Tokyo. Sounded good to me.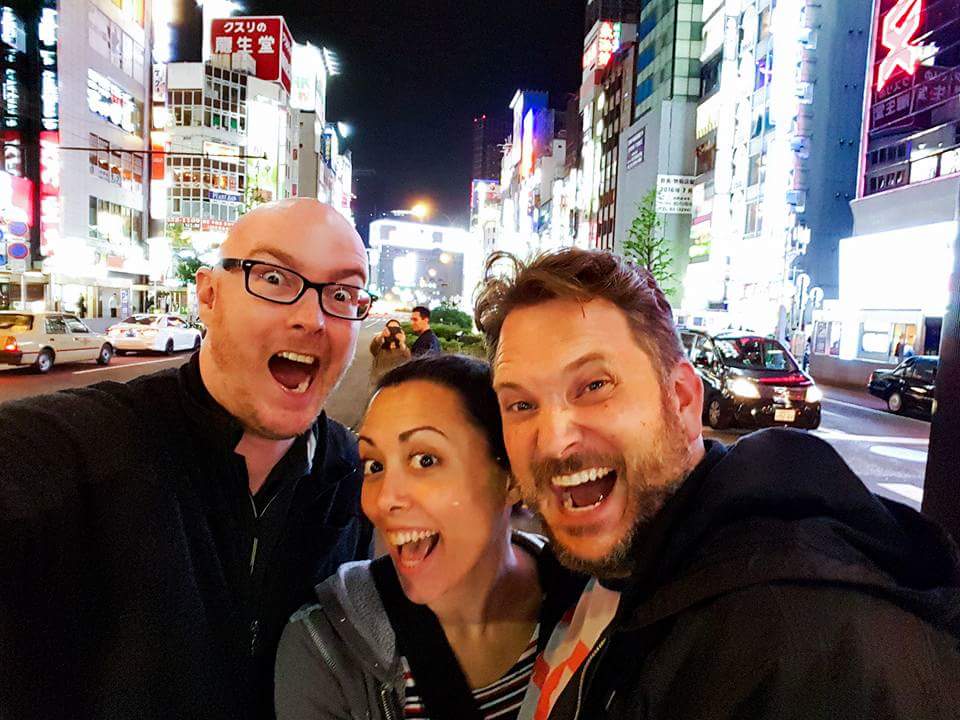 The timing of it meant I'd get about 5 weeks. A pretty good stretch, though I knew even before setting foot on the ground it wouldn't be enough.
Tokyo
What a city. What an amazing, massive, bonkers, incredible city.
During the day countless throngs of people rush from place to place.
Skyscrapers reach for the sky somehow towering over the already tall "regular" buildings. They all dot the landscape, quadrilateral stalagmites as far as you can see. Rivers and canals scythe through, along, and under roads. Like many big cities, Tokyo is both a river city and a coastal city.
But at night. At night the city transforms into a sci-fi masterpiece.
Tokyo is a wonderfully frenetic city of lights, high rises and concentrated insanity. It's equal parts "Blade Runner," "The Fifth Element," "Ghost in the Shell" and, well, just about every other sci-fi movie you can think of. For years, Tokyo's Akihabara district was the place to score cheap electronics.

Bright vertical signs sear the retinas.
Massive advertisements for companies you've heard of, products you haven't, and myriad things you can't decipher all span multiple stories and brighten the streets below like daylight. A rainbowed daylight of neon and LEDs.
Men and women celebrate a long day at work. Lines stretch from the entrances of favorite restaurants.
The Shinjuku neighborhood of Tokyo, Japan is legendary for its over-the-top nightlife. Here's how it looks in pictures and 360-video.
From above, the lights of the city stretch to the horizon. Glittering dots light. It's like a view of space, spread flat along the sea.
The Tokyo Skytree is amazingly tall. It's the tallest tower in the world, and only the Burj Khalifa in Dubai is a taller structure ( for now). It stretches 2,080 feet (634 meters) above Tokyo. Ostensibly a TV broadcasting tower, it has restaurants and observation decks that offer tremendous views of the incredible Tokyo skyline.
It's incredible, it's jaw-dropping, it's unlike anything you've ever seen. It is… magnificent.
Japanese Alps
After a bit more than a week in the wondrous Tokyo, I headed northwest. Winding its way alongside rocky rivers and hugging green mountains, the train into the mountains offers sights of natural beauty as counterpoint to Tokyo's manmade one. It reminded me of New Hampshire the most, honestly.
My first stop was Matsumoto, a large town nestled in a valley between several mountain ranges. Here, the Black Crow castle awaited.
One of the oldest castles in Japan, it's color gives it a menacing look most of the other castles lack.
Japanese castles are familiar to movie lovers, gamers, and anyone interested in world history. Their iconic designs and impressive appearance are a stark contrast to the castles of Europe. Matsumoto castle is one of the oldest, a largely original example that dates back to the 1500s.
After a few days I moved along to Nagano, of 1998 Olympics fame. The Zenko-ji Temple is stunning.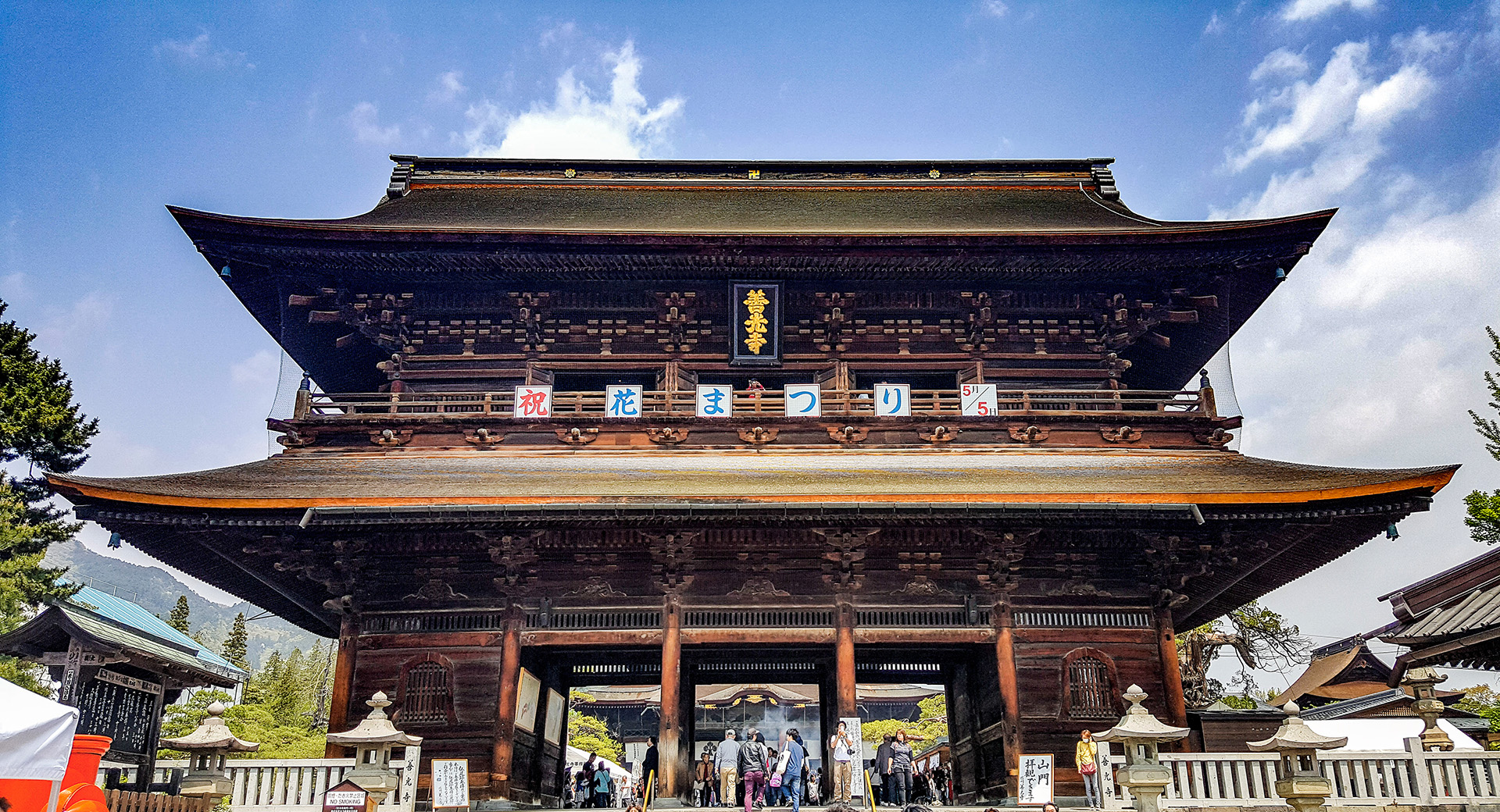 But I couldn't quite get a feel for this town. Matsumoto either, to be honest. Japanese design so often aims for harmony with nature, but here it seems more like city carved from wooded hillsides. But that, itself, still wasn't it.
I felt rushed. I understand the ridiculousness of saying 5 weeks anywhere would make someone feel rushed, but my initial plan was for 2.5 months. I'd wanted to live in Japan for years, so cutting years down to months down to weeks… it was difficult. Sure, Japan isn't huge, but there's a lot to see. Already I'd nixed plans to see Hokkaido and all of the north. I've written before about my ticking clock, and here I felt it. Bad. I was restless, yet aimless. I needed, brace yourself, a plan.
Typically I don't plan more than a week or so in advance. But with my "limited" time, I needed to at least sketch a route. The fact it was Golden Week and all the main touristy areas were packed, certainly aided my decision to pause and reconnoiter.
After a few hours, and some help from the incredible Japan-Guide.com, I had it figured. I'd continue west, seeing that coast for the first time, spending time in Kanazawa, then back up into the mountains to the small town of Takayama. Then southward to Nagoya, Kyoto, Osaka, and Hiroshima. My last stop would be all the way down to Nagasaki. I'd picked these spots either because of something cool to see there, or more likely, something I could cover for CNET. I wouldn't see everything that I wanted, but I'd get the highlights and more.
A few days later, in the old part of Kanazawa, it all finally clicked.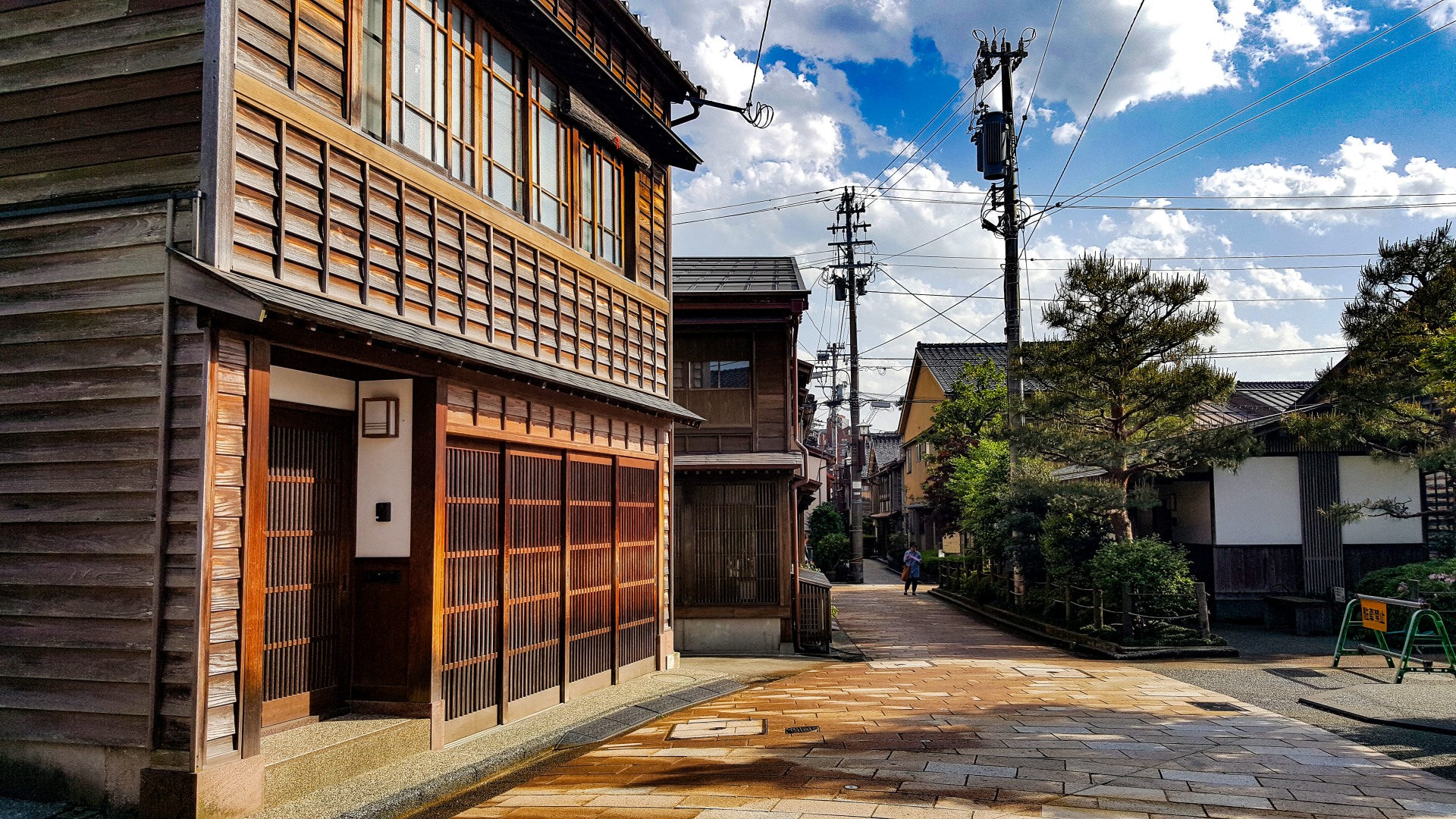 I was sitting near some lovely wood buildings, when this elderly gentleman with a walker approached. With a big smile on his face he asked me something, but I shook my head that I didn't understand, returning the smile. He asked again, and said even more. Then he nodded, as if I'd answered, and said "English." He reached down into the basket on his walker and pulled out a map. His smile even wider, he insisted I take it. I obliged, he nodded, then went on his way.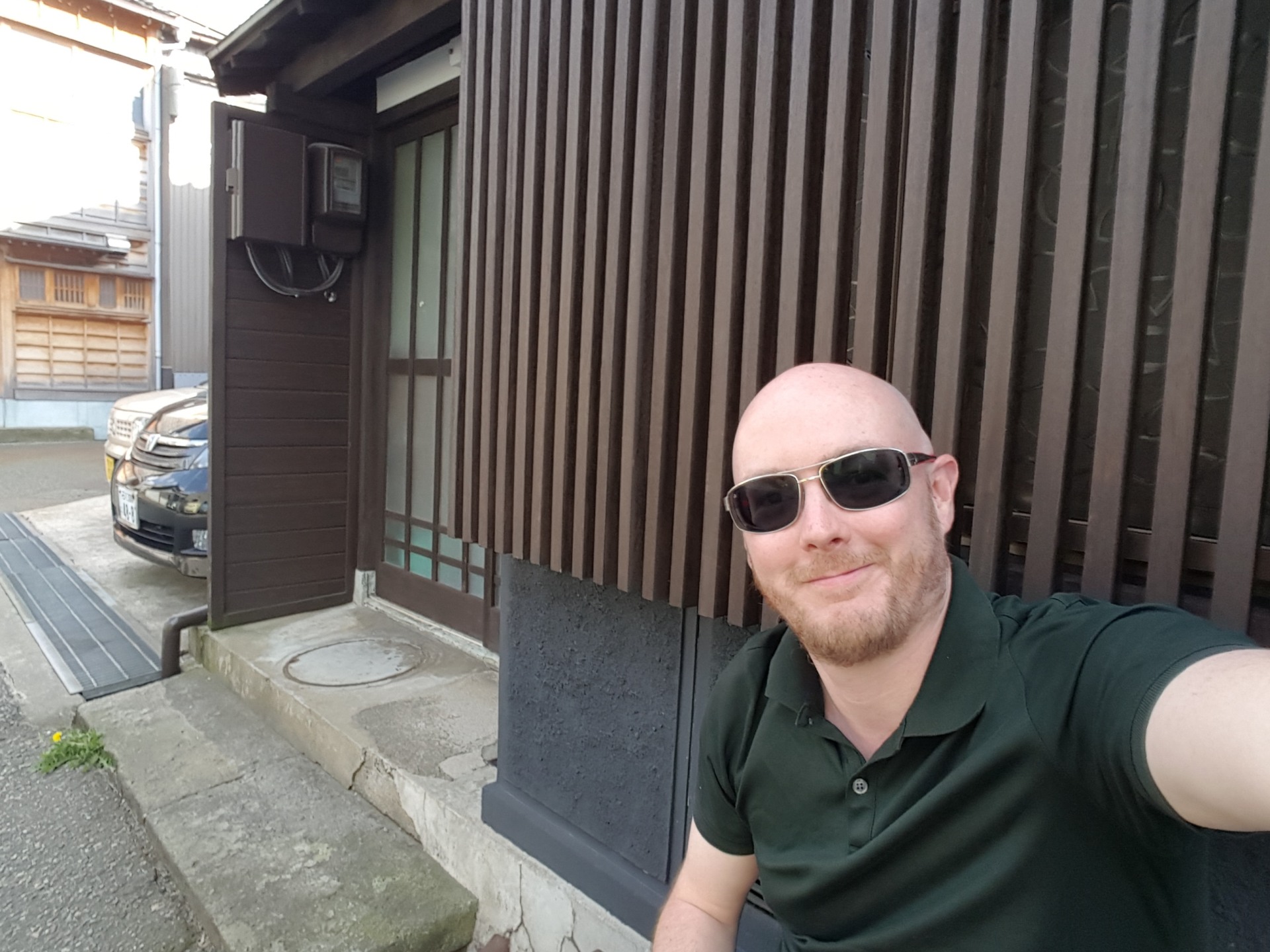 It was such a lovely gesture, one of so many I'd noticed in my time so far in Japan. It all kind of hit me at once and I had a bit of a moment. I was doing it. I'd been benched hard by my carelessness in Chile, but I was back. My leg and foot hurt almost constantly, but dammit I was doing it. I was Japan on an adventure. I was back. This man did me a kindness, and it took that to wake up to reality. It was going to be OK. I remembered my promise to myself from December: enjoy the moment. Well here was a delightful moment and I dammit I was enjoying it. The country was lovely, the people were lovely, and I had spent almost 2 weeks so focused on the trip that I forgot to enjoy the adventure.
And enjoy it I would. This would become one of my greatest adventures ever.