Singapore: On Which I Eat All the Foods, and Sweat All The Sweats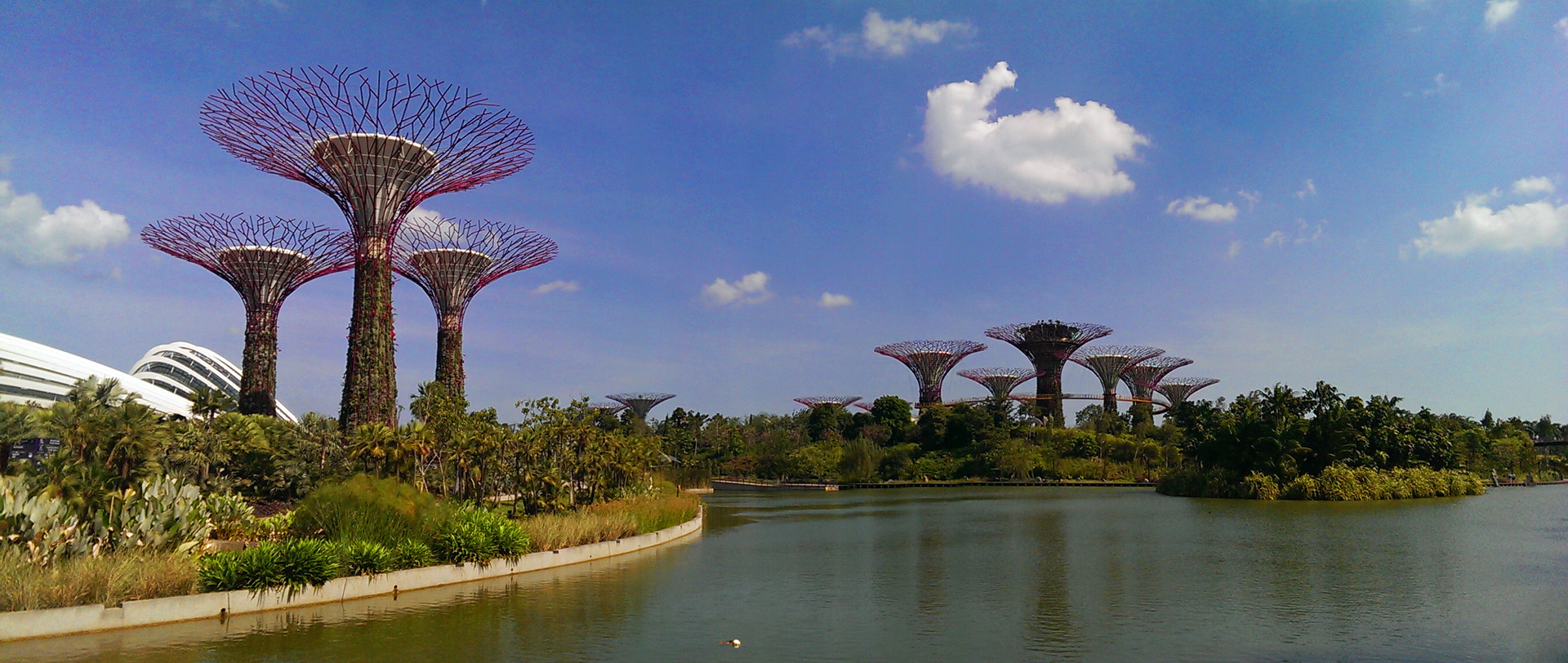 I live in what is effectively the desert. Single-digit humidity levels are common. Even when it's over 100f/38c, it's not that bad, as any sweat immediately and efficiently evaporates.
So I forget what it's like elsewhere, places that do have humidity. And Singapore is definitely one of those places. Wow.
But it also has some incredible food, a beautiful waterfront, and the coolest high-tech gardens you can imagine.
It was hard to leave Brisbane. The last 24 hours there were the best I've had on this adventure so far. Guess I'll need to head back there.
Like many of you, I'm sure, the thing I'd heard most about Singapore were its draconian laws against, well everything. No littering, no spitting, gum is illegal, that kind of thing.
To be honest, I felt a bit like Wesley in the 1st season episode of ST:TNG, "Justice". Amirite? Right? Hello? OK, to explain, in that episode the crew of the Enterprise makes contact with a seemingly peaceful, idyllic society. Wesley accidentally steps on some flowers, and finds out that the punishment for all crimes is death.
Except, it doesn't end up feeling like that. Sure it's clean, but not that clean. There are still cigarette butts and occasional litter (just like everywhere in the world). I guess I was expecting spotlessness.
The architecture is fascinating too. Like any big city it has its mix of forgettable skyscrapers, but given a little creative room, there's some crazy stuff. Instead of boring concert hall, they built this futuristic thing: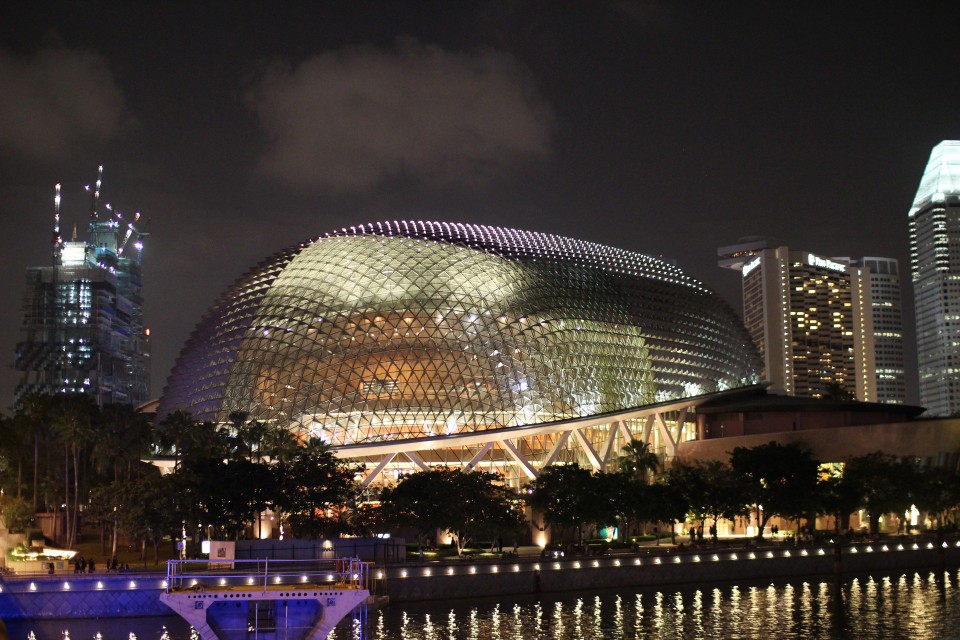 That's a thing that exists. A full-on dome covering a big building. Amazing (more on the domes later).
Singapore is quite the melting pot. The largest majority is ethnic Chinese, but walking down the street you're seemingly just as likely to see a white person, Indian, or other Asian group.
And like any melting pot, this means the food is fantastic. I had a few expensive meals ($40+) and several cheap (<$10) and generally the cheaper meals were better. There was a food market in Chinatown that had stalls of countless varieties of cuisine. I had some brilliant baos, and a delectable chicken rice.
Singapore is expensive for south east Asia, but not as expensive (food-wise) as Australia.
The waterfront has one of those epic skylines, up there in awesomeness to Hong Kong and a few others. Dominating one side of the lagoon is the Marina Bay Sands, one of the coolest buildings in the world. It looks like three buildings with a half sausage on top. That sausage has a park and a pool, but sadly you can only get to the latter if you're staying at the hotel. They were booked up when I was there (also, $400+ a night).
As awesome as it is during the day, at night IT SHOOTS FRICKIN LASERBEAMS. Not a joke. Actual laser beams.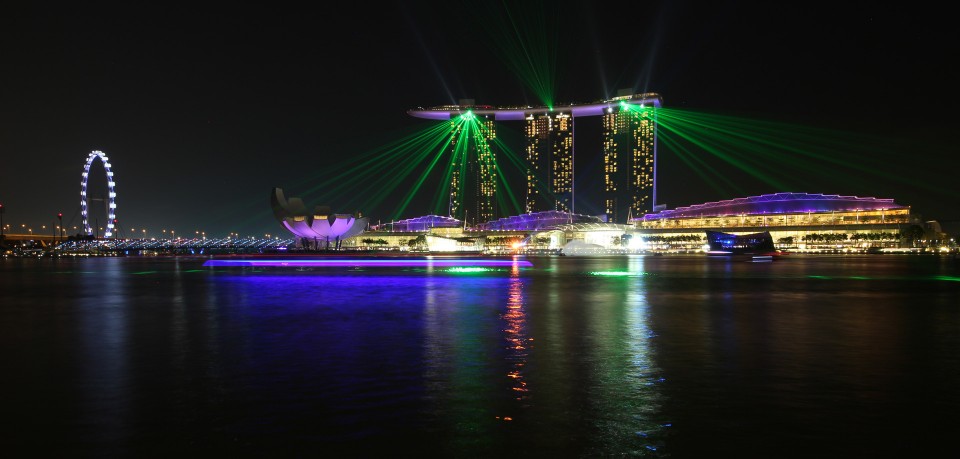 It's part of a light show that's enjoyable on either side of the bay. If you're in front of the hotel and mall, there are videos projected on steam/mist accompanied by music. If you're on the other side, you get a cool light show including incredibly high-powered green lasers. I must have shot a hundred photos of this.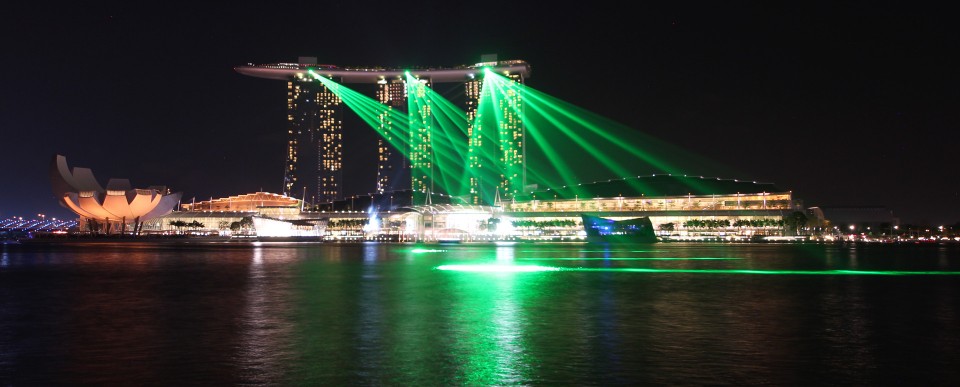 The mall adjacent to the hotel is pretty massive in its own right, but the stores inside are standard high-end crap.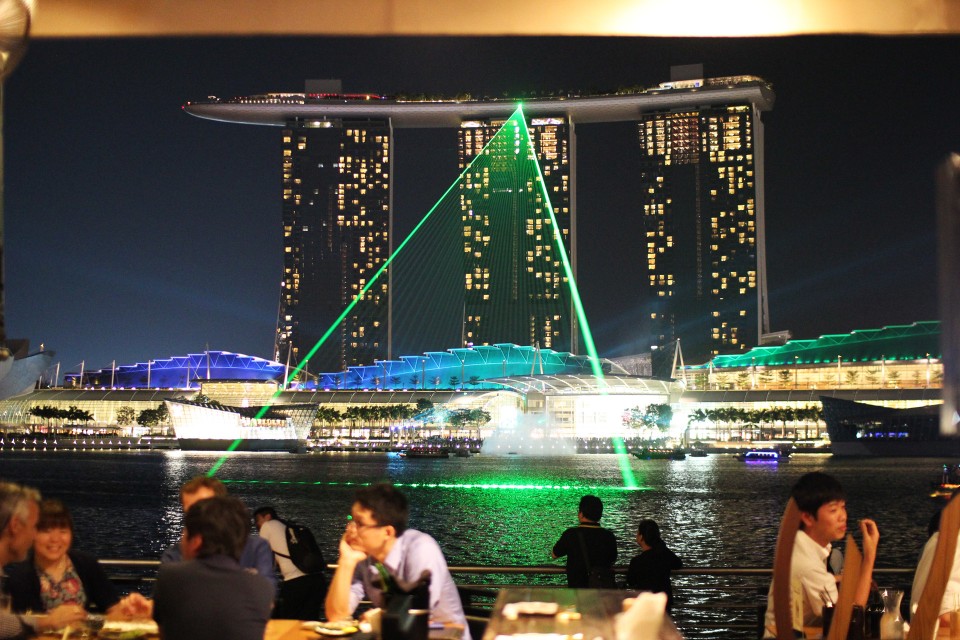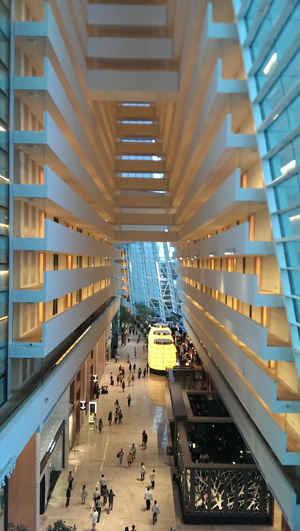 The inside of the hotel looks like the inside of the Contemporary Resort at Disneyworld, a comparison I'm sure the Sands would love.
Behind the hotel, however, is one of Singapore's real gems, The Gardens by the Bay. This sprawling garden complex is surprisingly high tech and futuristic.
It's largely sustainable, recycling water and using sunlight so it's not a drain on Singapore's infrastructure.
The huge "trees" are badass (picture at top), but the real treat are the massive greenhouses.
Really, these are the prototypes of the arcologies Gibson wrote about, or the domes in the sci-fi classic, Undersea. Singapore seems to love these domes, since the concert hall is in one too. I wouldn't be surprised in 50 years they've domed over the whole downtown (and airconed it).
Inside the taller dome is a manufactured mountain that simulates a rain forest. It's as badass in person as it looks in the pictures.

Surprisingly, it's actually cooler inside the domes than out. Perfectly temperate, with lower humidity (it seems)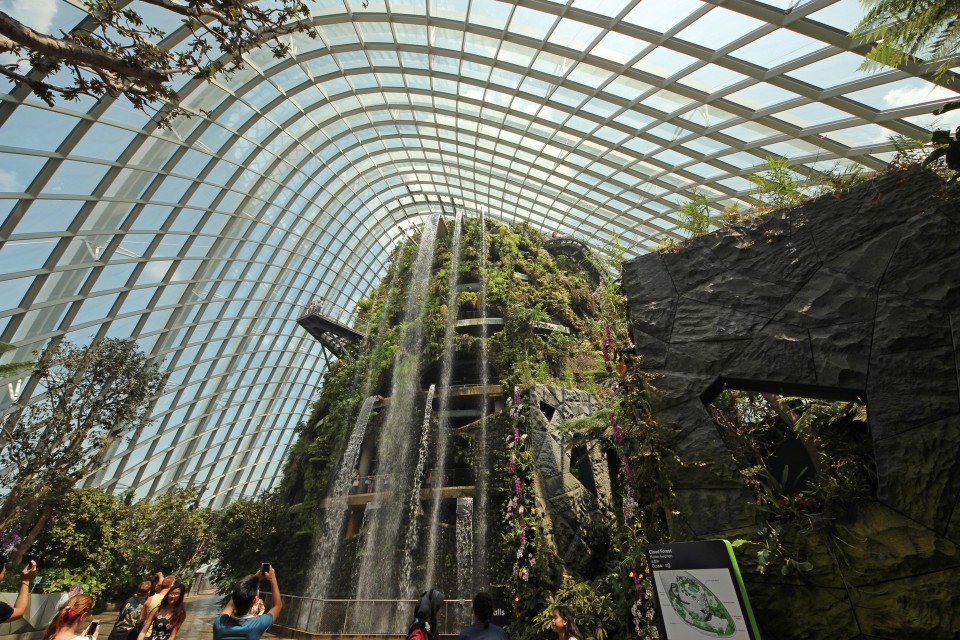 There were ramps weaving in and out of the structure, letting you walk through different layers of the artificial rain forest.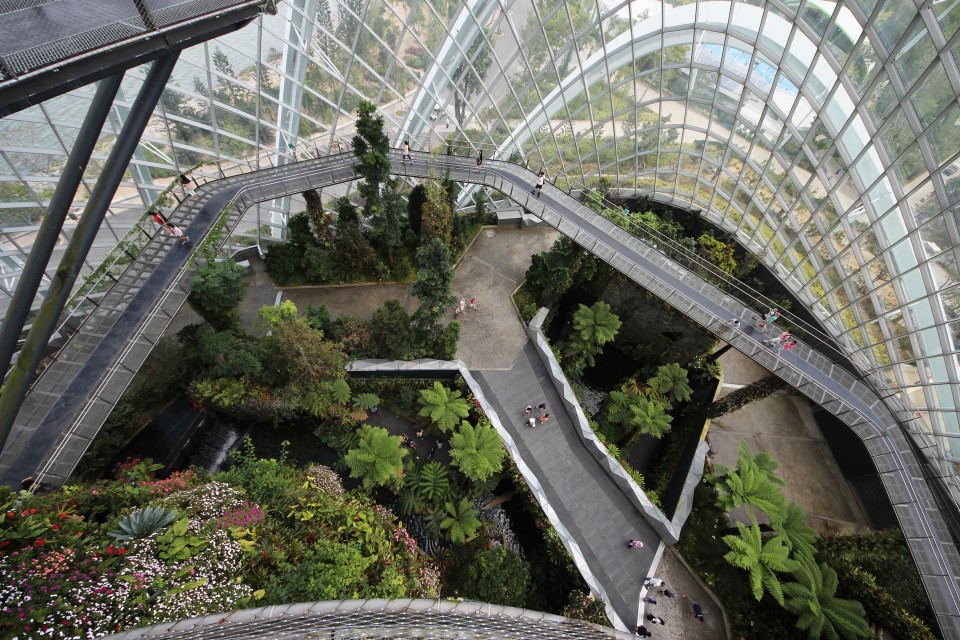 I was a little less impressed with the flower dome, which was more like a traditional greenhouse.

Maybe it was all the desert plants, which I can see at my house anytime I want.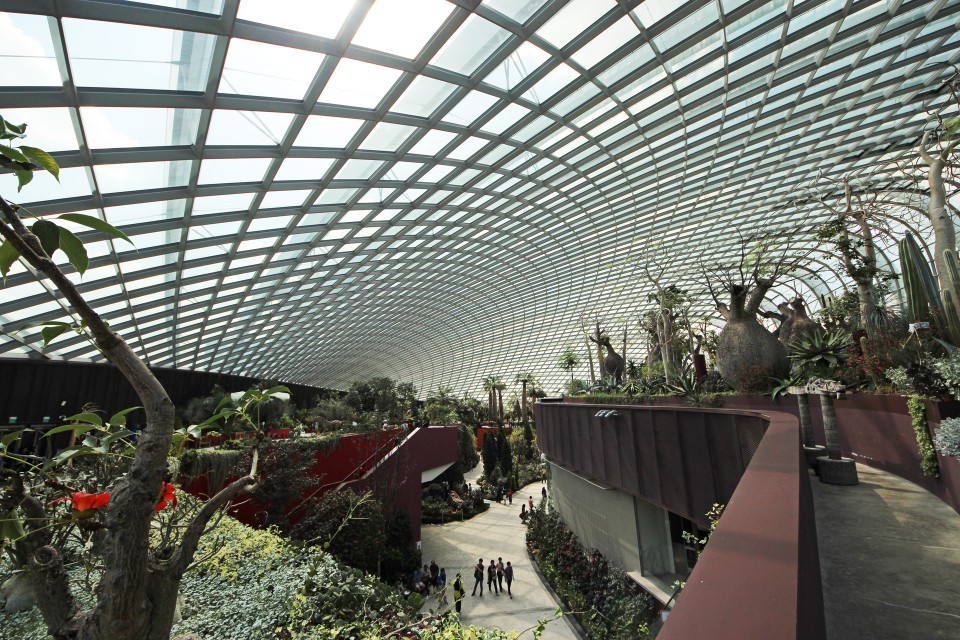 Still cool though.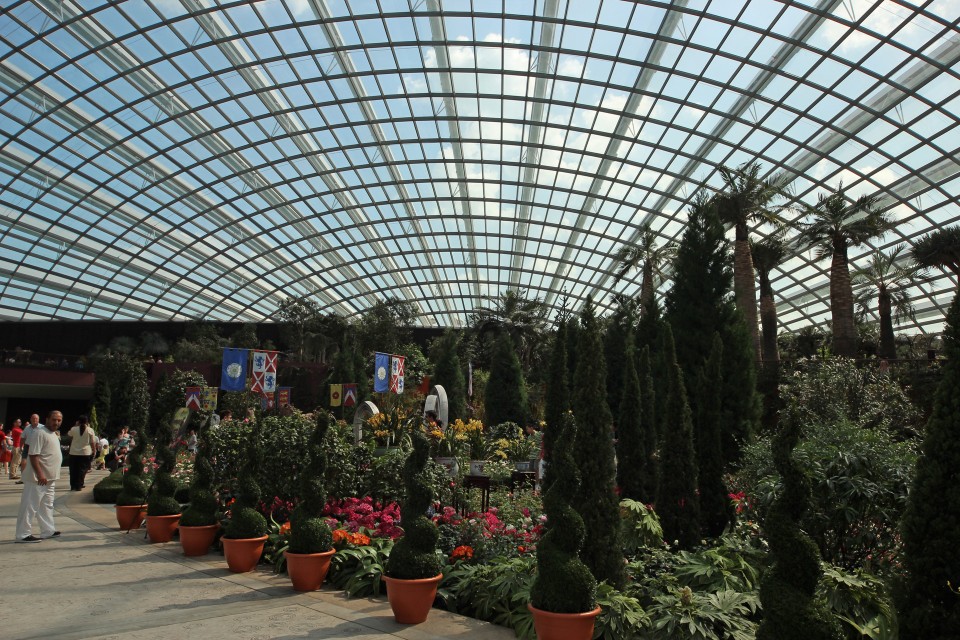 All in all I enjoyed Singapore, though I think I like Hong Kong more. There's a certain frenetic energy to that city that you can't help but get caught up in. I compare the two as there are a lot of similarities. Both are small, population dense, and while Singapore still is, Hong Kong was effectively a citystate for most of its recent history. While I wouldn't have minded a day or two more in Singapore, I don't have the "go back right now" feeling like I do with HK. In fairness, that's a pretty high bar.
From Singapore I join a G Adventures trip that heads north through Malaysia and Thailand. So up next… Kuala Lumpur and environs.
Singapore
Can I read the signs: Yes, actually
Do I have a funny accent: Maybe? Hard to tell it's such a multi-lingual melting pot.