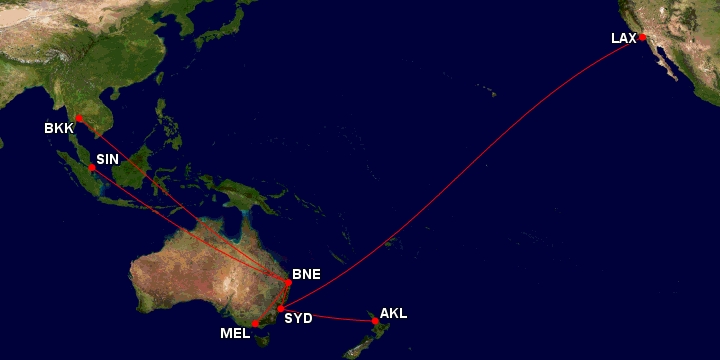 In just over ten weeks, I traveled 28,000 miles in the air, and a few thousand more on the ground.
And yet, I didn't make it around the world.
Mid-trip, I diverted. It was the best decision I made (other than the one to go in the first place).
This is that story, and the story of 10 weeks on the road.
This was easily the best two months of my life. So many extraordinary days, people, events, sights, adventures all compacted into such a short time. It was truly incredible. I'd been in quite a slump at home, something I hinted at in my first post. There was nothing explicitly wrong, I was just bored. And when I'm bored for long stretches, I feel like I'm wasting my life.
After two weeks in Sydney with a dear friend, I got to New Zealand, and it was a rocky start. The hostel in Auckland, my first stop, was the only one in the following two months I didn't like. It was cliquey, not welcoming, and my roommate was barely friendly. Thankfully that was the only time any of that happened, but it was a rough way to start a trip.
The first friendly person I met was in Hobbiton, actually, a lovely Brit named Edith. While it was just a few hours of friendly banter on a bus, it showed me it would be easy to meet cool people.
And when I got to Wellington, that theory was soundly confirmed. The folks in the hostel there getting me drunk within minutes of arrival.
From NZ I hit Melbourne, and wonderful debauchery ensued. Then Brisbane, which was mostly getting the work done I was too distracted to do in Melbourne.
Then Singapore, where things started to go pear shaped. In my uncertainty in the hostile hostel in Auckland, I booked a two-week G Adventures tour from Singapore to Bangkok. I met some awesome people on my previous two G Adventure tours, and I'd hope to do the same on this one.
I was already regretting leaving Melbourne and Brisbane so quickly, leaving behind what would have surely been more epic times. I considered bailing on the tour before I met the group, and nearly did when I did. This wasn't a judgment on the people (I didn't know them!), it was just there were only 6 of us, and that first night it seemed like it was two couples, and one other guy. I could just see the next two weeks unfolding, with the two couples doing their own thing, and me and this guy stuck with each other (regardless of how well we got along).
I was largely wrong. It was only one couple, who did do their own thing, and the other three, who turned out to be lovely people. So I'm glad I stuck with it, especially for the great times in Thailand (which I'll do a post on eventually).
But the tour taught me a lot. It taught me what I didn't want in travel. Namely, a G Adventures tour. I'm not saying they aren't great, they are, and if you only have a short time to see a lot, they're fantastic. If you have a great group, you end up traveling with a bunch of friends, which is brilliant.
But they're really rushed, rarely staying more than a day or two in each location. And often they stop in places of little interest, other than it's halfway between where you were and where you're going. They're also pretty expensive. I spent more per day on the tour than any other stretch on my trip. In Byron Bay, for example, I ate sushi for lunch every day, had dinner out every night, drank like a lush, and still spent a little more than half as much as I did on the average day on the G Adventures trip.
But this isn't about that tour. This is about the realization. I realized I wanted to go back to Australia. I felt like I had unfinished business there. All that was holding me back was this idea I'd created about going around the world. That you, my dozens of lovely readers, would be disappointed that I "gave up."
But then I realized, I wasn't giving up. The idea for this trip was to travel, to see things, to see if I can live and work elsewhere. And to that end, of course, it was a superlative success. The parts of the world I didn't see (largely just Dubai and Buenos Aires), will be there for me to see on another trip.
And that was the final and best realization, that there would be another trip. That what I was doing was not only everything I'd wanted and hoped for, but it was also sustainable. I was spending less than I expected, and returned home with no credit card debt and more money in my accounts than I left with.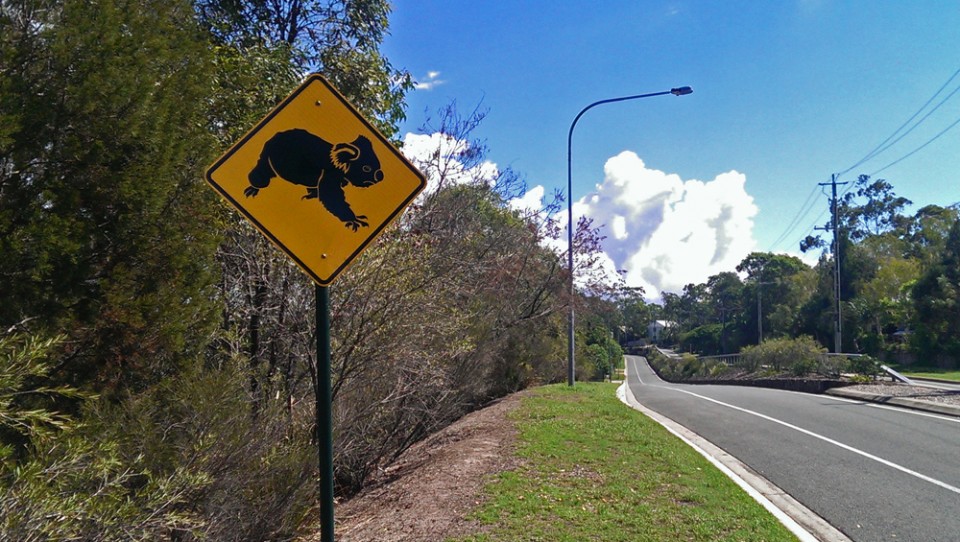 So what did I do in my final three weeks? Well after a few days in Brisbane, I went to Byron Bay, meeting up with a friend I'd met in Melbourne. I spent a comfortably numb week and a half eating sushi every day, walking and working on the beach in the afternoon, and drinking until the wee hours. Not the type of thing that makes for interesting web articles, but makes for fantastic LIFE. "Meanwhile back in the city, certain people are starting to cringe…" Friends from home messaged they were worried because they hadn't heard from me. But what was I to say or post about? Uh, slept till noon, ate, worked, drank, repeat.
I fell in with an incredible group of people, a bevvy of lovely Swedes, a boisterous Aussie, an awesome Austrian (who has her own blog!), and of course some Brits, Germans, and more. It was everything I missed from college: spending lots of time with people you adore. If this entire trip was ice cream cake, Byron Bay was the delicious chocolate on top.
I'm not sure I've ever felt as relaxed and happy, for such a long stretch, in my life, as I did in Byron Bay. Magic.
From there, I road tripped with several of the Swedish girls up to Noosa, north of Brisbane. While the road trip was fun, and something I didn't realize I'd missed (my first time driving in two months, and on the left!), Noosa was a bit of a letdown. The town wasn't nearly as cool as Byron, the hostel was pretty ratty, and while I loved the tropical downpours for the first few days, it certainly put a damp damper on what we could do.
But I'm glad I went, not least to spend a few more days with the wonderful people I'd met, but also getting to see some friends I'd met in Byron and meeting new people as well. Noosa ended up being a slow winding down of an epic few weeks, at the end of a truly incredible adventure.
While I saw five countries, flew more than the circumference of the Earth, saw sights I'll never forgot, for me this trip was about the people. So many great people. I want to see them all again, and wish for the world to be smaller so I can more easily.
I can't spend a year in Australia like so many of my friends are, but I can travel. I do travel. And whether it's for a drink or a dinner or another epic adventure, I'm sure I'll see many of them again, somewhere in the world.
So with love, see you soon.
So ends Around the World in Many Days: Part 1. Here are the most common questions I got from the people at home:
Are you sick of staying in hostels?
Not in the slightest. I prefer it, actually, as you meet so many amazing and like-minded people. If you're friendly, you'll fall in with friendly people. Somehow, it all works pretty effortlessly.
Every few weeks I did stay at a hotel, however, usually on the night before a long flight, just to have some space to myself to repack my gear, have a comfy bed, etc. Luxury, not necessity.
Are you sick of being on the road?
Interestingly, no. I was curious about this before I started. I didn't expect I'd be "homesick" per se, but would I get bored or tired of it all? There were one or two days where I did feel a bit "why am I doing this," but that night or the next day I'd meet someone new, or do something cool, and immediately go back to "oh, right, cause this is awesome." I felt this way in Auckland, pre-Hobbiton, which was rough because that was the start of the trip in earnest (but as I said, that was largely the hostel, which I later heard from others, just wasn't a good hostel). I had a day in Noosa where I felt the same too, but that was largely due to a rather epic goon-induced hangover.
I think a lot of it has to do with pace. I certainly felt the grind on the G Adventures tour, because we were always on the go. But for most of the rest of it, I was in each place for a week or more, which was quite relaxing.
Is/was it expensive?
A difficult question. Technically, no. In fact, it was largely cheaper than I was expecting. Hostels were roughly $30 a night, and while getting around is pricy, as long as you're not trying to travel every other day the transit costs are spread out over the length of your visit.
Food, however, isn't cheap. At least not in Australia. It seems they tax the crap out of everything you don't explicitly need: Alcohol is ridiculously expensive ($20 for a 6 pack, $50+ for a "cheap" bottle of wine). Restaurants are pricey too. I found you can eat healthy, or you can eat cheap, but you can't do both. If you cook your own food (every hostel has a kitchen, some better than others), you can do pretty well. I didn't cook, and ended up spending more on food than accommodation. It all depends how you want to do it. Could you do Australia on $50 a day? Easily. $40? Probably, but not the way I eat (Oooo, I wanna try THAT).
Done travelling for a while?
Yes! I won't be travelling again for a long time. Like, 5 whole weeks. Then to London, France, and parts beyond.